01/23/2020
Improving the customer experience, one kid at a time
Think of the last time you went to the grocery store.
Think of the last time you went to the grocery store. You probably strolled through the aisles, sipping your chai latte and getting excited about all the new products on the shelves to try, right?

Let's face it, even though we as grocers try to create this experience for our customers, the reality is our customers are tired and strapped for time. If their kids are with them during their Sunday shop, it can be chaos. One child asks for every sugar-filled product in the store and throws a level-five tantrum when their parents say no, while the other one takes the opportunity to play a good old game of hide and seek. Shopping with kids can be stressful.

When the cost of acquiring new customers is up to five times the amount of retaining existing ones, there is an opportunity to help improve the experience for our parent shoppers. So how can grocers turn a dreaded Sunday chore into something our customers actually enjoy?

At Co-op, many of our stores across Western Canada have had the secret ingredient for more than 20 years: Kids Club!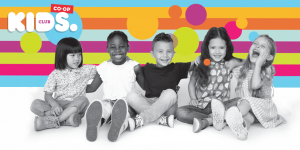 Though Co-op Kids Club has been around for decades, it wasn't largely promoted. This past summer, we changed that. With updated marketing materials and new offerings, Co-op Kids Club is now a point of differentiation, improving the customer experience one kid at a time.

So how do we improve the Sunday shop? For starters, shopping carts with cars attached are available for their kids to "drive" as parents stroll the aisles. The first stop on the adventure is our produce department for a free piece of fresh fruit.

We know the typical shopping trip takes longer than it does to eat a banana, so kids can also get a cookie at the bakery, some cheese at the deli, a tattoo at the meat counter, a band-aid at the pharmacy and a surprise gift at the checkout. The kids are so excited to collect their treats along the way, they don't have time for mid-aisle tantrums, which means a relaxing shopping trip for mom and dad.

But the fun doesn't stop at the store. When kids become a member of Co-op Kids Club, they unlock special membership features like birthday cards, exclusive coupons and much more fun throughout the year.

Where Kid's Club is truly authentic to Co-op is in the local community activations. Co-ops all across Western Canada host their own special events where kids learn fun skills like how to decorate cupcakes, build birdhouses and plant flower pots for mom. These events bring communities together and create memorable Co-op experiences for Kids Club members and their families.

Since relaunching Co-op Kids Club, there has been an influx of positive customer experiences—one of which is transforming the Sunday grocery trip into an enjoyable experience for the whole family.