03/18/2021
The gelato aficionado
James Boettcher wants to enrich peoples' lives, one delicious scoop at a time
James Boettcher admits that he didn't even know what gelato was when he first began working with the small Calgary scoop shop then known as Fiasco Gelato. "That was in 2005," he laughs, "and by 2009 I had fallen in love with the spirit and energy around this place." That's when Boettcher decided to buy the company.

The young entrepreneur had grown up around his grandmother's catering business, and had worked at Sunterra Market, both of which he says fuelled his passion for wholesome, natural foods. While still in high school he launched his first company doing freelance design for local businesses, including Fiasco Gelato.

Fast forward 12 years and Boettcher's Righteous Gelato (which changed its name from Fiasco last April) is now one of Canada's leading gelato producers, capturing frozen dessert fans with its artisanal, premium-quality products, while at the same time building a better business model. The company's lineup, which includes dairy-free and plant-based, small-batch gelato, is sold in more than 3,000 retail locations across the country, and in 2020 the brand entered the U.S. Pacific Northwest market through Whole Foods Market.

Boettcher says while most Canadians today are more familiar with the centuries-old treat than they used to be, some consumers still ask what gelato is. "We tell them it's what ice cream was meant to be," he grins, explaining the frozen treat is "a mix of milk and cream with less fat, sugar and air" than ice cream, making it rich, smooth and flavourful.

Although the company has created hundreds of decadent recipes over the years, Righteous currently offers retailers 23 flavours of gelato and sorbetto, including seasonal creations such as Sticky Toffee Pudding and Dairy Free Chocolate Peppermint. Most varieties are certified gluten-free, and all are free of artificial flavours and colours. The vibrant desserts are sold in clear PET 562-mL tubs that are recyclable and reusable, as well as 106-mL single-serve packs for locations like hospitals and sports arenas.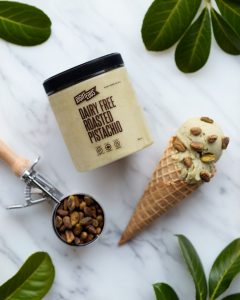 Top-selling SKUs are Dairy Free Raspberry Lime sorbetto, followed by Dark Chocolate Caramel Sea Salt. "But the one with the most swagger right now is Dairy Free Peanut Butter and Jam," says Boettcher. That flavour is one of four new nut gelatos, which also include Dairy Free Roasted Pistachio, Dairy Free Toasted Coconut, and Dairy Free Salted Hazelnut. "We're always either tuning up the current line or thinking of what's next," he says, adding that oat milk-based products will launch this spring.

Customer feedback is crucial in determining what varieties stay or go, and has even been a source of flavour inspiration. "We get such cool fan mail," says Boettcher. "The consumers in this space have a feeling of 'I want a premium, carefully crafted product,' and of having earned this delightful treat, which may not be an everyday thing. The trust they have in our dairy-free and our plant-based products, as well as our sourcing practices, means the consumer knows they're getting what they're paying for."

The entrepreneur also attributes a big part of his company's success to its people-first business approach, which he says "has always been this mentality of do what's right and the money will come." Becoming a Certified B Corporation has been an important element of that, and has allowed Righteous to benchmark its own practices, while supporting other Canadian companies in making more sustainable, conscious business decisions. "For us it's been this amazing beacon that has allowed us to continue to answer a very simple question with each and every decision we make, which is, 'can we live up to our name?' So everything, from innovation to our employment practices, always starts with what's in your heart and what feels right."

It's been a winning formula for Righteous, which was selected as one of Alberta's Top Employers for 2020. Boettcher's leadership also won him the 2020 CANIE Entrepreneur of the Year Award for the Prairie Region, celebrating excellence in innovation and entrepreneurship. "I think the easiest way to frame success, especially in terms of business, is that we always want to leave the world better than we found it," he says. "Anybody can make gelato, but we've always seen it as so much more than that. It's been this amazing journey of connecting people through nourishment and happiness. I mean, nobody's mad when they get a scoop of gelato—at least not ours."