12/04/2018
Lessons from Sustainability Leaders: A&W Canada's Tom Newitt
Fast-food chain is making changes and working with franchisees to reduce its environmental impact
During the G7 ministerial meeting in Halifax this fall, Minister of the Environment Catherine McKenna announced a new partnership with businesses to reduce plastics waste. A&W Canada was among a number of major Canadian companies to sign the plastics charter. As part of the Lessons from Sustainability Leaders blog series, we caught up with the company's representative in Halifax, Tom Newitt, director of marketing and brand communications. Tom provides valuable insight from A&W's environmental leadership strategy and expands our industry's understanding of sustainability issues and solutions.

A&W has applied many sustainable practices to its business throughout the years. Why is sustainability important to A&W?

We continue to be inspired by our franchisees and customers to do the right thing for the environment. In our journey to reduce our environmental impact, we've identified several key focus areas: packaging innovations that reduce waste, sustainable food practices, water and energy conservation, and giving back to the communities we serve.

What are some of the changes A&W has made towards its sustainability practices in these areas?

One of our major changes has been the introduction of reusable and compostable packaging across the country. We've added reusable ceramic mugs, ceramic plates, stainless steel forks and knives, and metal fry baskets to our restaurants. Almost all of our food packaging, including burger bags, takeout bags, napkins, and straws are all compostable. As a result, we are able to divert millions of single-use disposable packaging from landfills every year.

Thinking 'outside the restaurant' is also critical. Our partner farmers play an important part to ensure we provide the best products for our customers. For instance, our tomato farmers take advantage of natural sunlight and use greenhouses with special screens to prevent heat loss at night, reducing energy consumption by 35%. They reduce the amount of water needed for their crops by collecting and recycling raindrops. Using greenhouses means we can grow 25 times more tomatoes than we could on traditional farm fields – all while conserving land, heat and water and allowing our tomatoes to ripen on the vine longer. I believe this reflects greatly in our burgers!

How does collaboration play a role in the decision-making process of A&W's sustainability initiatives?

We listen to our guests and work hard to turn requests into a reality. For instance, our guests are increasingly concerned about the effects of single-use plastics on the environment. This drove our decision to find an alternative to plastic straws and this summer we announced we would become the first restaurant chain in North America to make a commitment to eliminate plastic straws. Finding sustainable alternatives is a priority for us at A&W and as we continue to make progress towards more sustainable practices, we aim to lead the industry by example.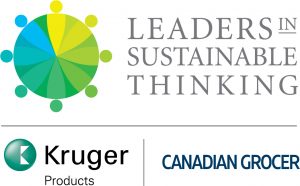 This post is part of Kruger Products' and Canadian Grocer's Leaders in Sustainable Thinking (LIST) initiative. Since 2012, LIST has been bringing together industry professionals to share best practices. LIST is the only sustainability-focused thought leadership initiative of its kind focused on the grocery supply chain in Canada.