11/05/2018
10 food and flavour trends for 2019
Cooking with cannabis and caviar highlight THP's food trend predictions for the year ahead
Toronto-based food marketing agency THP has looked into
its culinary crystal ball to predict which foods and flavours will fill plates (and social media feeds) in 2019.

From superfoods to glittery grub, here's what made THP's 2019 Flavour & Trends Forecast:


Cannabis
Now that marijuana is legal in Canada, home chefs can look for ways to work it into their meals. "The key to unlocking the plant's depths of flavour? Infusing it into fats to release each strain's delicate flavour profile," according to THP's trend report.

Caviar
The garnish once synonymous with affluence is going mainstream--think pizza topping or using it as a substitute for capers with a smoked salmon dish.

Clear foods
Consumer demand for transparency is on the rise and chefs around the world are taking this quite literally. THP predicts transparent treats such as ravioli, pumpkin pie, raindrop cakes and potato chips will be at the centre of this trend.

Edible cocktails
A more mature and sophisticated take on the Jello shot, THP says these boozy bites are popping up on menus around the globe and are bound to become the number one nightcap.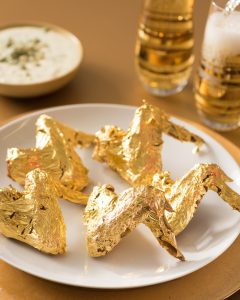 Gold
Whether dusted on chocolate bars, floating in cocktails or coating the poultry on your plate, edible gold gives food a glittery upgrade.

Mushrooms
Packed with flavour, the popularity of mushrooms as a superfood are taking root in Western culture. In 2019, THP expects to see mushrooms in everything from protein substitutes to coffee.

Octopus
Though a staple on the dining scene, octopus and cephalopods will now be incorporated into at-home meals.

Seaweed
Seaweed is the new sustainable superfood, according to THP, with the global seaweed market expected to be worth $9 billion in the next six years.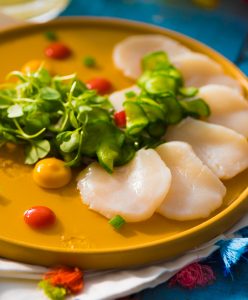 Peruvian
Not only visually appealing, Peruvian ingredients are packed with taste and texture. "Ceviche, among other quintessentially Peruvian dishes, is keeping its eye on the prize for 2019," says the THP report.

Smart cooking
The kitchen is not only a place to connect with family and friends, but thanks to bluetooth technology and wifi, you can stay connected to appliances as well. "With everything from smart stoves to plates that help you manage portion control, you can program your crock pot from the office and come home to a perfectly cooked pot roast," says THP's trend report.