05/13/2020
2020 CPMA New Product Showcase winners
Innovative produce products were celebrated as part of a virtual competition
Canadian Produce Marketing Association (CPMA) has announced the winner's of the 2020 New Product Showcase, which was moved online this year in the wake of the COVID-19 pandemic.

This year's competition, which is traditionally held at the CPMA Convention and Trade Show, featured 56 products from 44 companies, but only four awards were handed out.

Chosen by a team of judges consisting of industry and media members, this year's winners were:

Best New Product – The Little Potato Company's Easy Sides

Best Snackable Product – Mastronardi Produce / SUNSET – Honey Bombs Golden Cherry Tomatoes-on-the-Vine

Packaging Innovation –  Mucci Farms' Paper Top Seal

Organic Product – La Huerta Imports' Wana Bana Organic Fruit Puree

Here's a more detailed look at this year's winners:

The Little Potato Company's Easy Sides are seasoned, fully-cooked creamer potatoes, hot and crispy in seven minutes, and available in four culinary-inspired flavours. Premium, eye-catching packaging highlights pairing options for a complete meal solution.

Sweet-like-honey with the perfect crunch, Honey Bombs are the latest addition to the SUNSET Bombs lineup of on-the-vine snacking tomatoes. Honey Bomb offer the same high-impact Bombs taste experience that consumers crave, with a golden-hued colour and fruit-like flavour.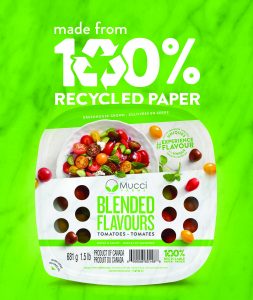 Mucci Farms is doubling down on its existing sustainable package with a new, innovative solution to further reduce plastic. Paper Top Seal is available in multiple formats across Mucci Farms products, and the pack is now 100% recyclable.

WanaBana exotic flavoured 100% pure fruit pulps are selected from the best fruits found in Ecuador. The pulp is extracted and packed in very convenient ready to use containers that maintains all the natural properties.

All product submissions can be found on the CPMA Convention and Trade Show website.