Belle Grove mushrooms recalled over contamination concerns
CFIA says the mushrooms could contain a toxin that causes botulism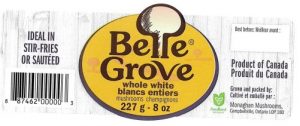 Belle Grove brand Whole White Mushrooms are being recalled.

The Canadian Food Inspection Agency says the mushrooms may be contaminated with a a bacteria that could allow the growth of a toxin that could cause botulism.

The recall covers 227-gram packs with UPC 8 87462 00000 3 and a best before date of Jan. 15.

CFIA is conducting a food safety investigation, which may lead to the recall of other products. So far, no illnesses have been associated with the consumption of this product.