Canadian Grocer introduces 'New on Shelf' newsletter
What you can expect from Canadian Grocer's newest e-newsletter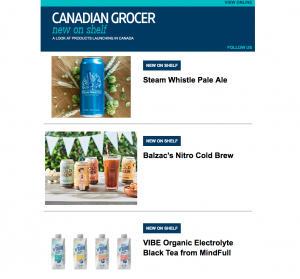 You may have noticed a recent addition to our lineup of e-newsletters.

Canadian Grocer has launched "New on Shelf"--a twice-monthly roundup of products launching in Canada. Our editors carefully select four products to feature in each newsletter, which hits inboxes every second Tuesday.

From snacks and sweets to drinks and dairy, we'll give you a glimpse of the products ready to hit grocery store shelves.

If you aren't yet receiving New on Shelf, visit our subscriber page to sign up for free.

AND, if you're launching a product and want to tell us about it, send information and high-resolution photos to online editor Kristin Laird.