Canadian Grocer's March/April issue is here!
Working from home?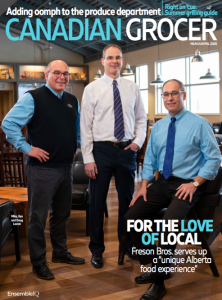 Canadian Grocer's March/April issue is out and we don't want you to miss it!

If you're working from home these days, you may have missed our latest print issue in your mailbox. Don't worry, it's only a click away.

Just in time for spring, we use the March/April issue to focus on produce with these stories and more:

ADDING OOMPH TO THE PRODUCE DEPARTMENT: Fruit and veggies are the star of store, but it may be time for a refresh.

THE PRODUCE CHALLENGE: Our new survey reveals the pressure points of selling fresh fruits and veggies.

MEET JULIE POITRAS-SAULNIER AND DAVID CÔTÉ, the Loop Mission founders who have a juicy way to tackle food waste.

If you're more of a meat and potatoes reader, check out our "Thrill of the grill" guide to adding sizzle to the summer barbecue season.

And don't miss our cover story "For the love of local," with Canadian Grocer's managing editor Carol Neshevich taking readers through the aisles of Freson Bros. in Fort Saskatchewan, Alta.

Happy reading!