Canadian Grocer's May issue is here!
Working from home?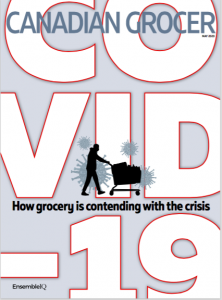 COVID-19 is unlike any threat the industry has faced, yet grocery is standing up to the challenge. And as the COVID-19 crisis continues to evolve, we are committed to keeping our readers informed by exploring the impact, lessons, and opportunities to emerge from this pandemic. It's all just a click away!

.In our May issue we're devoting a lot of space to the subject of COVID-19. In our special 10-page report our team of writers look at how the crisis is impacting every aspect of the business of selling groceries—from supply chains to front-line workers and, of course, shopper behaviour.

We also look at what lessons can be taken from this pandemic to help prepare for whatever crisis comes next and what opportunities can be seized once the dust starts to settle.

Nielsen's Carman Allison dispenses advice on how grocers can build loyalty in a post-pandemic world and we catch up with Walmart Canada CEO Haio Barbeito to learn what impact COVID-19 is having on his company.

Also in this issue, Canadian Grocer's managing editor Carol Neshevich examines the ever-evolving meat department while contributor Dilia Narduzzi introduces us to innovations in frozen novelties.

All this and much more in the new May issue of Canadian Grocer. Happy reading!