CFIA updates its recall of coconut products
Agency says products were sold in Ontario in addition to B.C.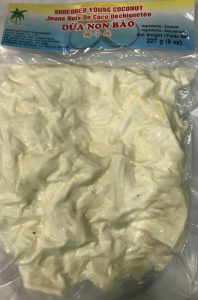 Canada's Food Inspection Agency (CFIA)
is updating a recall for coconut products amid concerns of salmonella contamination to include additional product and distribution information.

The recall, issued Jan. 24, affected frozen and shredded products distributed in British Columbia. The recall has since been expanded to include Thai Indochine Trading's Coconut Tree brand Shredded Young Coconut sold in Ontario, with UPC code 7 79139 06522 7.

The agency says food contaminated with salmonella may not look or smell spoiled but can still make people sick.

Salmonella can cause fever, headache, vomiting, nausea, abdominal cramps and diarrhea, and the agency says anyone experiencing symptoms should contact their doctor.