Clover Leaf brand sardines recalled over botulism concerns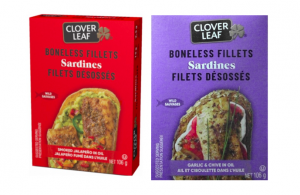 Clover Leaf Seafoods is recalling two of its name brand sardines boneless fillets products because they may contain a harmful bacteria.

The Canadian Food Inspection Agency says the recalled products--Clover Leaf brand Sardines Boneless Fillets - Garlic & Chive in Oil (UPC 0 61362 46008 6) and Sardines Boneless Fillets - Smoked Jalapeño (0 61362 46009 3)--"may permit the growth of Clostridium botulinum."

The recall affects customers in Alberta, New Brunswick, Newfoundland and Labrador, Nova Scotia, Ontario and Quebec.

The agency says no illnesses have been reported.

A food safety investigation is ongoing.