Four brands of butter recalled in Quebec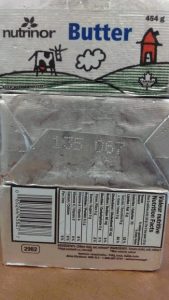 The Canadian Food Inspection Agency (CFIA) has expanded a recall of various brands of butter sold in Quebec, which may contain Listeria monocytogenes.

The federal agency added the Nutrinor brand (UPC 0 65244 45827 7) to the recall list, which already included St Laurent, Perron and Beurre du Lac.

CFIA says food contaminated with Listeria monocytogenes may not look or smell spoiled but can still make you sick. Symptoms can include vomiting, nausea, persistent fever, muscle aches, severe headache and neck stiffness.

There have been no reported illnesses associated with the consumption of these products.