The future of sustainability in Canada
When it comes to sustainability, Canada's forward thinking is something to celebrate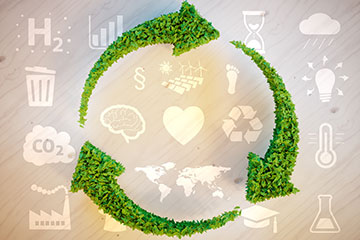 In thinking about celebrating Canada's sesquicentennial, sustainability may seem a little disconnected from the fireworks and parades marking the event. At the heart of Canada 150, however, is a celebration of the country's progress and, when it comes to sustainability, there's a lot to celebrate.

With the signing of the Paris Agreement and the Government of Canada appointing its first minister of the environment and climate change, companies are well aware that they'll be left behind if they don't adapt and commit to a greener supply chain.

And, as much as Canada 150 is about recognizing what has shaped the country in the past, it's also about reflecting on the opportunities that lie ahead. Bullfrog Power, Canada's leading provider of green and renewable energy, is doing just that with The Path Forward: Insights on a Sustainable Future from Canada's Corporate Leaders. Recognizing that many Canadian businesses are already taking a long-range view on environmental issues, Bullfrog's The Path Forward aims to capture and amplify the conversation to drive further action.

At a recent speaker series, Bob Chant, Loblaw senior vice-president of corporate affairs and communication and Philipp Wassenberg, Munich Re Canada's CEO, shared their insights on the impact of climate change and what it means for business in Canada.

For the grocery industry, Chant believes the food supply chain is most vulnerable, whether it's issues of drought, water, seeds or even the impact on seed caches. Acknowledging the potential detrimental impacts that climate change can bring, retailers are collaborating and sharing insight in an unprecedented way. Like most industries tackling climate change, there is an understanding that working together will drive better results for everyone.

Wassenberg also believes that the grocery industry has an opportunity to be a leader in reducing greenhouse gas and emissions. A number of Canadian companies are bringing this to life. From transportation to products that are sold, the grocery industry has a unique opportunity to apply circular economy principles to their business.

Maple Leaf Foods is a great example of a company applying this forward thinking. The company recently introduced its "Sustainable Meat Principles," based on the insight that the rate at which North Americans consume meat is unsustainable. The six principles are part of the effort to make Maple Leaf Foods the "most sustainable protein company on earth."

The "Sustainable Meat Principles" are ambitious but stretch targets are becoming an industry standard, challenging companies to push toward impactful results. Companies like Unilever, a Bullfrog client, have credited stretch targets as a key part of their strategy to becoming carbon positive by 2030.

Another CPG manufacturer leading the way in sustainable sourcing is Kruger Products, Canada's number one tissue products manufacturer. Being able to trace the pulp needed to manufacture their products, including Cashmere, Scotties, SpongeTowels and Purex, is a key component of Kruger Products sustainability practices. To ensure responsible sourcing, 100% of the company's fibre inputs are third-party certified. Kruger Products was also the first tissue manufacturer in Canada to earn FSC certification.

"Without collaboration and partnerships, sustainability cannot scale to the level that we need it to," says Steven Sage, vice-president of sustainability and innovation at Kruger Products. "Working with organizations like FSC and UL ECOLOGO, has allowed Kruger Products to significantly reduce our environment footprint and protect a vital resource for future generations."

Diving deeper into the supply chain, Canada is also leading the way in the transportation industry. In the past 20 years, CN Railway Company has improved its fuel efficiency by 36%; rail is now considered the most fuel-efficient method of moving freight over land. Transportation is an essential part of the supply chain and by providing sustainable options for shipping goods, CN Railway is helping Canadian companies reduce their overall environmental footprint.

"For us, The Path Forward is both documenting the consensus around the need for ambitious sustainability goals and surveying the ways different industries are rising to the challenge," says Anthony Santilli, vice-president of sales and marketing at Bullfrog Power. "We are still a long way from meeting our climate commitments as a nation but it's encouraging to see business finding its voice on this essential issue."

This is just a short list of companies that are doing great work in Canada. As companies like Bullfrog Power continue to amplify and bring the sector together, Canada has the opportunity to rise to the top.