11/15/2017
Haute vegan and South Indian fare highlight 2018 food trends
Third annual forecast names citrus, colour and smoke among the top trends
As 2017 starts to wind down, Toronto-based food marketing agency THP is looking to the year ahead and predicting which foods and flavours will dazzle our plates and palates.

This year's list -- and THP's third annual forecast -- is developed from the more than 4,000 recipes the agency produces in its test kitchen, in tandem with in-house and industry research.

"This year's trends are particularly exciting, as they make it easy to transition from fine dining to cooking at home," said Dana Speers, THP's director of culinary innovation. "Consumers have shown that they want to enjoy higher quality recipes at home and food brands have responded by making them more accessible."

From game meat to dehydrated food, here's what made THP's 2018 food trends list:

Glam cakes
Glitter, sequins, sparkles and a hint of gold leaf are tops when it comes to cake decorating. "Instagram-crazed foodies are hunting down this trend in sizes ranging from full-size celebration showstoppers to mini bite-size treats," according to THP's trend report.

Haute vegan
As the vegan lifestyle continues to gain traction, expect to see more meatless and dairy-free options on the menu. "Brands should also expect to feel more pressure to develop vegan options," says THP.

Game meat
Game meat such as elk, ostrich, quail and pheasant are not only lean but packed with flavour and protein. THP expects to see a switch from beef to game burger patties and roasted pheasant or quail instead of chicken.

South Indian
South Indian fare is known for its spice. In fact, "dishes from Southern India are the spiciest in the region and rely heavily on rice and lentils," says THP. "When you think South Indian flavours, think plates of dosa, vadas (fried snacks) and idlis (savoury breakfast cakes)."


Dehydrated
Though this food prep technique is nothing new, it is gaining popularity with those following a paleo diet and also with people looking for easy, healthy food options.

Smoke
Food smoking is moving beyond meat and into desserts, cocktails, vegetables and fruits for a full-bodied flavour experience.

North African flavours
Flavours from Morocco, Egypt, Tunisia and Algeria -- think aromatic tagines, couscous and dishes layered with fragrant spices such as berbere, ras el hanout and harissa -- will take centre stage.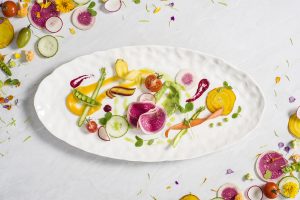 Colour
Purées and powders made from natural ingredients such as carrots, beets and peas are adding pops of colour to plates. And, increasingly, consumer packaged goods are using dyes made from natural over artificial ingredients for health-conscious consumers.

Preserved seafood
According to THP, preserved seafood sales is expected to hit $36.7 billion by 2021. Watch for items such as salt cod, sardines and other canned seafood and preserved fish to hit menus and grocery store shelves.

Citrus
Tangy, tart and sweet citrus flavours are having a moment, and Philippine lime (calamansi), pomelo and kumquats are set to take centre stage.