10/16/2020
Here's what's happening at the 2020 Star Women virtual celebration!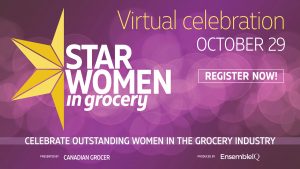 Though Canadian Grocer's Star Women in Grocery event will look a little different this year, attendees of the new virtual celebration, held Oct. 29, can expect the same great content as year's past.

We are excited to announce the lineup for this year's event, including the
participants of the Star Women winners panel.

Three of this year's winners will provide insights and share highlights from their careers that have made them a Star Women in Grocery. This year's participants are:



Marie-Claude Bacon
Vice-President, Public Affairs & Communications
Metro




Kerry Tompson
Vice-President, Talent & Inclusion
Sobeys




Marie-Eve Royer
Senior Vice-President, Transformation
Bimbo Canada



In addition to the panel discussion, the virtual event includes a keynote presentation from Barb Stegemann, CEO and Founder of The 7 Virtues, as well as the Star Women in Grocery Awards presentation.

Don't miss out on the opportunity to be inspired and to celebrate the 2020 Star Women in Grocery Winners. Register today.

We hope to see you there!