05/17/2016
Inside the 40-year hunt for Canada's next pear
How a made-in-Canada pear came to market after 40 years of trial and error.
A pear can be sliced and mixed with a handful of walnuts, tossed into a salad, poached in red wine, baked into a tart and partnered with chocolate.

Yet, often times the pear is overlooked. Even with its sticky, mouthwatering blend of sweet and tangy, it has always played second banana to that other fall favourite, the apple.

June Denbak, marketing co-ordinator for Vineland Growers Co-operative, thinks the reason people choose apples over pears is largely due to familiarity. "Apples have a strong association with things like pie, cinnamon, cider, crisp, juice, autumn or phrases like an apple a day keeps the doctor away," she says. All of these associations are true for pears too, but as an afterthought.

Although Bartlett and Bosc have been around since the 1800s, consumers don't typically identify pears by variety. The Vineland Research and Innovation Centre conducted consumer research on apples and pears and found that in most grocery stores there are at least 10 types of apples, and most consumers can easily name several varieties. The pear category is much smaller, and a lot of consumers aren't able to name more than two or three varieties. To many, a pear is just a pear. But this may change!

Vineland Research and Innovation Centre, which holds the licence for Canada's indigenous pear, hopes to bring more attention to the category and put its new pear at the forefront of consumers' minds when shopping for fruit during winter months.

It's called the Cold Snap, a moniker that conveys the pear's crunch and the fact that it's fresh throughout winter. Local pears are usually only available in stores until November. However, Cold Snap can be stored longer than other pears and, in Vineland's controlled-atmosphere storage facilities, for up to four months, making them available from August to March.

After more than 40 years in development, Canada's first trademarked pear made its debut, at Toronto's Royal Agricultural Winter Fair last November. The sweet-tasting large pear was displayed during the 10 days and at the fair's opening ceremony alongside fresh samples and cheese-and-pear appetizers. "This gave us an opportunity to speak with consumers face- to-face about the new variety. People were enthusiastic about the opportunity to buy local, Canadian-grown fruit in winter," says Denbak. The first commercial harvest was found in select retailers across Ontario including Metro, Fortinos, Longo's and Real Canadian Superstore. It was a long time coming.

READ: Cold Snap growers strive for perfect pear

The development of Cold Snap, then-known as HW614, was part of a federal pear-breeding program begun in 1962. The idea: to create a pear variety with long shelf life and delicious flavour, and above all a pear that was naturally resistant to a disease called "fire blight," which wipes out entire orchards, explains Matthew Ecker, sales and business development manager at Vineland Growers Co-operative, based in Jordan Station, Ont. In 1972, research scientist Harvey Quamme, at an Agriculture and Agri-Food Canada (AAFC) research centre, in Harrow, Ont., made the initial cross between a Bartlett and a numbered U.S. cultivar, creating the fruit.

There's a saying in the agriculture industry: "Pears for your heirs." Pear breeding is a slow, methodical process, and it can take 25 years to introduce a new variety, according to AAFC. Seedling trees are planted, followed by a juvenile phase of up to 10 years, then years of testing. Growing trials for HW614 began in the 1980s, and the breeding program, overseen by AAFC scientist David Hunter, was moved to Vineland Station, in the Niagara region, in 1995.

After years of testing, HW614 was sampled at the 2007 Royal Agricultural Winter Fair—a rare treat for attendees since large-scale commercial crops wouldn't be harvested until 2015. Those present were invited to vote in a naming contest. The winner: Harovin Sundown. "Harovin" coined from Harrow and Vineland, and "Sundown" was a nod to the fruit's red blush.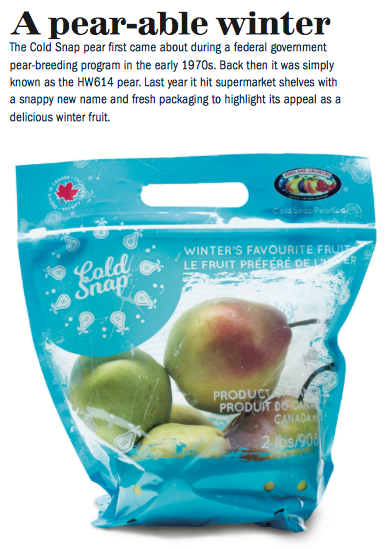 In 2009, Vineland, which has strong ties to the AAFC, received global marketing and commercialization rights for Harovin Sundown. Two years later, Vineland announced an agreement with Vineland Growers Co-operative to produce and sell the pear. The co-op sub-licences the pear to growers and royalty fees were paid to support further research.

Vineland decided to use the club model. In Canada, the model has never been used with pears. Globally, it's popular with apples. In 2011, Global Fruit's Red Prince apple became Canada's first club apple, and SweeTango apple, developed at the University of Minnesota, hit Canadian supermarkets in 2014. With this model, marketing groups have exclusive rights to manage and market the fruit, which typically commands a premium. It gives the co-op incentive to invest in developing a brand for the fruit because it has exclusive rights. Lana Culley, director of business development at Vineland Research and Innovation Centre, says because there's a controlled supply, "you're not flooding the market with the product and, therefore, reducing your prices."

In 2014, with its first commercial harvest on the horizon,

Vineland Growers Co-operative was approved for Growing Forward 2 (GF2), a federal-provincial-territorial grant, to develop branding for the pear. With a majority of this funding, a Vineland consumer insight team conducted focus groups with the pear to build the foundation for the marketing and branding strategy.

In taste tests, the pear's sweetness, juiciness and crispness were seen as top sensory properties. Research also showed that while consumers are positive about pears, "they're not top of mind," says Amy Bowen, research program leader of consumer insights, at Vineland Research. Vineland also found that people were interested in how the pear was produced, and they loved the made-in-Canada story.

All of that data was then passed along to Hamilton-based marketing agency Kitestring to work on the pear's rebrand. The goal was to get people excited about this particular pear. With research in hand, they held brainstorming sessions to look for something distinctive and memorable. In this case, trademark availability was also important. Then they went back to the research and strategy to ensure that the name aligned with the information and began the creative process. Holly Gibson, creative strategist at Kitestring, says, "Cold Snap came from the idea of winter, crunch and fresh."

Kitestring also developed the tagline, "Winter's favourite fruit" and the light blue Pantone 631c packaging to stand out in an earth-toned produce department, and to reinforce the message of local and fresh during winter. The back panel plays up the local aspect, with the line, "Grown by Canadian farmers, Cold Snap is a delicious alternative to imported pears."

Retailing for around $4.99 per two-pound bag, Ecker says the pear is competitively priced. With the low loonie making imported produce more expensive, "we have a big opportunity to grab some market share." Cold Snap's biggest competitors, Bartlett and Bosc, were priced between $2.49 to $2.99 a pound. "But when you're up against $1.99 a pound for bulk , sometimes the consumer can see that difference," explains Ecker.

Indeed, Canadians may love the idea of buying local, but price still drives most purchasing decisions, says Sylvain Charlebois, a professor at the University of Guelph's Food Institute. But, he adds, "the margin between the price point of local foods and imported foods is shrinking."

READ: What's next for GMOs?

Typically, labour costs are the reason for high domestic produce prices. Many foreign worker programs provide cheap labour. However, the costs to running these programs is increasing. As a solution, Vineland Research and Innovation Centre has been developing robotics and automation harvesting systems that remove manpower from the equation. The challenge is creating a reliable robot with the intelligence and dexterity of a person. Vineland has developed a machine that can choose mushrooms and then gently place them in the packaging. With this type of technology, we could potentially see lower domestic produce prices.

Although consumers may be attracted to the cheaper prices of imports, it's important for Canada to ramp up new fruit and vegetable development for many reasons, and especially to increase availability of local produce during winter months.

This past winter, ongoing droughts in California and Mexico highlighted the challenges of importing produce as retailers scrambled to get produce on the shelves and some consumers were faced with the reality of paying up to $7 for a single head of cauliflower.

Frank Pagliaro, vice-president of produce at Loblaw, says the company faced two key challenges this year: the dramatic decrease in the Canadian dollar, which led to higher prices for produce and, therefore, lower demand from consumers; and uncharacteristic weather wreaking havoc on product supply.

Even with geographic regions not affected by weather con- ditions, quality of imported produce can be an issue. Some produce imported from places such as Central America can take 10 days to arrive at Canadian retailers.

Viliam Zvalo, research scientist of vegetable production at Vineland Research and Innovation Centre, adds, "The post-harvest treatment is not always ideal in these countries; their technologies are behind. So putting an inferior product on the supermarket shelf."

A solution could be more initiatives, such as the World Crop Program, where Vineland works with Canadian farmers to grow traditionally imported produce, such as Chinese long eggplant, Indian round eggplant and okra—varieties sought by Canada's growing Chinese and Southeast Asian population. "We'd like to replace the imports with a local product, which has superior quality to what we're getting in the stores," says Zvalo. "If it's grown in Ontario, it could be harvested today and the next day it's in the distribution centres" and into stores.

The program gives Canadian farmers an opportunity to tap into new, growing markets. Canada imports six million kilograms of okra annually, and 24 million kilograms of eggplant, and the crops are growing in the neighbourhood of 5% to 10% a year.



While consumption of pears has declined over the years, Canada continues to give up the predominant share of the domestic fresh pear market to imports, according to Vineland. "Approximately 90% of pears consumed in Canada are imported," says Ecker. Canada imports more than 69,000 tonnes of fresh pears annually with an estimated value of $82 million. The U.S. is our main supplier, followed by China and Argentina. Conversely, Canadian fresh pear production is estimated at more than 7,400 tonnes with a value of $6.6 million.


The biggest challenge is getting consumers to buy something new. "We'll get a portion of consumers that will buy it just because it is new, but for the majority, grocery shopping is routine-oriented," says Ecker. "So you're trying to disrupt their regular shopping patterns."
Cold Snap pears are finished for the season. This winter they had 500,000 pears, and next harvest they anticipate one million. The pears are currently in production in Ontario and Nova Scotia's Annapolis Valley, with plans to have growers producing in British Columbia. Ecker says more commercial growers are needed to make this fruit available across the country. The co-op is also expanding its controlled atmosphere storage facilities to accommodate greater quantities, making the pears widely available with quantities expected to carry through to March 2017.
Going into their second season, the challenge is still bringing awareness to the new variety and the story behind it. "We plan on doing a lot more in-store marketing," says Denbak, such as in-store sampling. "We hope to increase our visual presence through new display bins."
Seems the story of the Cold Snap could turn out "pear-fect" after all.