Kick-off time!
Super Bowl Sunday is one of the biggest sales opportunities of the year.


Like thousands of Canadians, for Bruce Wilson of Montreal, Super Bowl Sunday is all about football, food and 20 or so close friends. Ask him if he's worried about a day of junk food and he says: "Health? Ha! Are you kidding? The Super Bowl is all about American excess–so is our feasting!"

Super Bowl is the No. 1 watched annual sports event in Canada. According to the 2011 NFL Canada Insights and Media report, last year more than half the country tuned into at least some part of the broadcast and almost half of these fans said they are likely to buy a sponsoring brand's product.

And while that's good news for Frito Lay, Nestlé, Pepsi and others, it's even better news for retailers. No doubt about it, says Joel Gregoire, food and beverage industry analyst for NPD Group, when Canadians look for something to nosh on during the big game, they reach first for nuts, candy, crackers, pizza and tortilla chips and dips.

"The data shows what we intuitively know: health is not a priority for the consumer on this particular day," Gregoire says. And eating habits are split evenly between men and women. Judging from past years, grocers can also expect to see a big spike in the sale of breath mints.

Yet despite our affinity for eating chips while the Super Bowl is on, Gregoire points out that many Canadians still want to eat fruit and vegetables. That's likely one reason Longo's in Toronto plans to cater to every taste this Super Bowl. The banner will display the usual chips and pop but will also feature party trays brimming with fruit and veggies, says Harpreet Ferron, director of grocery at Longo's.

Canada is more of a fresh market, says Tracey Altman, vicepresident of marketing for Wholly Guacamole. Super Bowl is the No. 1 sales holiday for the company, with up to 30 per cent of annual sales coming from this event, and guacamole has gained a lot of ground over the past 18 months, Altman says.

Raymond Salloum, vice-president of sales and marketing for Fontaine Santé, says his company is seeing a shift from oil- and mayonnaise-based dips to healthier hummus-based options. Fontaine sees a sales lift of up to 40 per cent around Super Bowl. "Hummus is a non-mature category and is still growing, so the minute you put it on sale you experience a double-digit lift," he says.

Super Bowl is also an opportunity to tap into the emerging ethnic markets. Interest in American football is growing among Chinese and South East Asians, according to the NFL, a trend that's showing up on shelves. Stefanie Grossman, director of brand marketing for Pop Chips, says her company has recently added jalapeno and chili-lime flavours.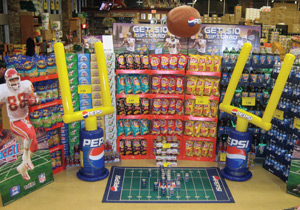 TOUCHDOWN: A colourful display at Stong's in Vancouver last year

But it's hard to imagine Super Bowl without pizza. Mike Embir, Delissio marketing manager at Nestlé Canada, expects sales to surge 25 per cent on Super Bowl Sunday. Embir says Super Bowl was top of mind when his company developed the Bacon Cheeseburger and the Buffalo Chicken pizzas. "Delivery pizza represents 80 per cent of pizza consumption versus 20 per cent for frozen pizza," Embir notes.

But he quickly adds that those figures point to an opportunity for grocers. No one wants to wait for an hour to get their pizza delivered, so retailers should push frozen pizza sales as a convenient and tasty alternative. In other words, he says, grocers need to "grab their fair share of that Super Bowl stomach."


4

MERCHANDISING

TIPS


1. Giveaways: Dane Robertson, store manager at Stong's in Vancouver, says jerseys, coolers and other NFL paraphernalia are a huge hit with customers. So are $10 gift cards in the up-front displays.

2. Mix it up: At the IGA Marketplace in North Vancouver, assistant manager Eric Lonon puts displays in the produce department of make-your-own salsa and guacamole ingredients. These include tomatoes, onions, cilantro, avocados and fresh-cut fruit platters.

3. Start early: Don't wait until kick-off day. Wholly Guacamole's Tracey Altman says research shows people won't bring something new to a Super Bowl party. Start sampling early and give dollar-off coupons for products in the weeks leading up to the event.

4. Just heat and eat: Toronto's Longo's puts together themed football flyers with quick-and-easy entertaining ideas and specials on heat-and-serve platters and sushi trays.