04/25/2017
Local food love at Foodland Ontario Retailer Awards
Foodland Ontario celebrates Ontario grocers at annual Retailer Awards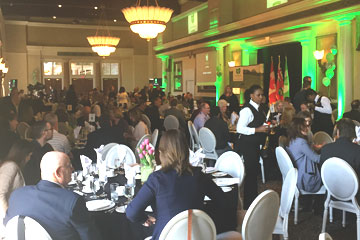 Foodland Ontario's Retailer Awards were held on April 24, 2017, at Toronto's The Liberty Grand. This marks the 30th year of the awards, which recognize grocery retailers' efforts, through innovative in-store displays, to raise consumer awareness about foods grown, produced and made in Ontario.

Alison Robertson of the Ontario Fruit and Vegetable Growers' Association welcomed everyone to the event. She celebrated the partnership between Foodland Ontario and grocers and spoke of local food as a key driver in the produce industry. She noted that promoting local food is not only good business sense, but it's good for the Ontario economy as a whole.

A total of 66 grocery retailers were recognized this year for outstanding in-store promotions in categories including Gold Creative Winners, Gold Cross-Merchandised Winners, Gold Seasonal and Platinum Winners. Jim McDowall and Dan Tellier accepted a Gold Seasonal award for Metro #331 (Orangeville).


Michelle Blair and Barry Morrison of Metro #453 (Bowmanville) accepted a Foodland Ontario Award of Excellence, which celebrates Ontario retailers that have won the Platinum All Seasons Award two years in a row. Food Basics #607 (Hanmer) and Food Basics #660 (Brampton) also received the Award of Excellence.
Jeff Leal, minister of agriculture, food and rural affairs and the minister responsible for small business, was also on hand to congratulate this year's winners for their creativity and commitment to Ontario food. "Ontario's grocery retailers play a fundamental role in helping raise awareness and demand for local food," he said. He continued to say that when consumers buy local, they help boost the economy, create jobs and strengthen Ontario's agri-food sector. Ontario products, he remarked, were second to none, renowned for their quality.
Minister Leal personally awarded three Vision Awards, recognizing grocery head offices for their corporate commitment to local foods. The 2017 winners were Sobeys in the Conventional category, Food Basics (Metro) in the Discount category and Longo Brothers Fruit Markets in the independent category.
There were more than 4,100 entries and 5000 photos submitted this year, and retailers came from as far away as Thunder Bay and Hanmer to be lauded.