Maille drilling down on Canadian palate
New cornichon flavour looks to satisfy Canadian snack preferences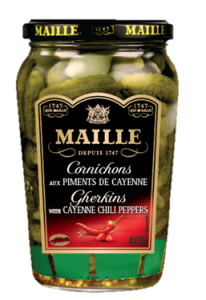 French condiments maker Maille continues to zero in on Canadian snack preferences with its fifth flavour of cornichons: Cayenne Chilli Pepper.

Set to hit Canadian grocery stores in March with a retail price of $6.49, the new 400-ml bottles of Cayenne Chilli Pepper cornichons are billed in a press release as "packed with a unique crunchiness and bursts of fiery flavour that will inspire the most discerning foodies."

The new flavour was designed specifically for the Canadian market to meet growing demand from younger consumers for healthy, but savoury and spicy end-of-day snacks, said Marie-Eve Brunet, brand manager of Montreal-based ID Foods, which distributes Maille in Canada. Maille will distribute a more tempered version worldwide following the Canadian launch.

"They are the perfect snack to serve with charcuterie boards and at cocktail hours," Brunet said about French cornichons, which are smaller and crunchier than dill pickles and have an acidity-linked sour taste that differentiates them from candy-sweet North American gherkins.

ID Foods will launch a digital campaign and try to connect with foodies and home chefs at Canadian summer food fairs, much like it did last summer for Maille mustard.

"We will be giving out coupons and doing cross promotions with our other products in grocery stores," said Brunet. "We need to get the word out and create a buzz among foodies."

According to Brunet, Maille holds an 18% share of the entire Canadian mustard market, and a 50% share of the dijon market.