Metro named most valuable grocery brand in Canada
Research from Kantar and WPP ranks the top brands in Canada based on financial analysis and consumer research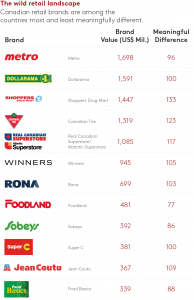 Metro is the most valuable grocery brand in Canada, and 19th most valuable Canadian brand overall, according to new research from market research firm Kantar and the communications and advertising holding company WPP.

The first ever Canadian BrandZ report ranks brands based on financial analysis and consumer research to measure the value of a brand, and determine how much that brand contributes to the overall value of the business.

For Metro, the BrandZ analysis determined the brand is worth US$1.698 billion to the business, good for 19th spot on the list.

The BrandZ Canada report provides the top 40 most valuable made-in-Canada brands, with banks dominating the top 10. RBC is number one ($23 billion) and TD at number two ($20.1 billion). Bell was number three ($13.3 billion), while Scotiabank, BMO and CIBC all also made the top 10.

"Brand is becoming an increasingly important asset to the companies that own them, as the global market becomes ever more competitive with scores of agile and disruptive brands waiting in the wings," said  WPP's David Roth, who is chairman of BrandZ, in a release.

For many business leaders, a brand may seem ephemeral, based as it is upon so many intangible qualities. But according to WPP and Kantar, brand value is based on the ability to be relevant to existing and potential customers. "BrandZ uniquely measures this appeal and validates it against actual sales performance." The most powerful brands are those that are:



Meaningful: they appeal more, generate greater "love" and meet individual expectations and needs.


Different: They are unique in a positive way and "set the trends," staying ahead of the curve for the benefit of the consumer.


Salient: They come spontaneously to mind as the brand of choice for key needs. The methodology is explained in detail here.



In all, 12 retail brands made the list, eight of which sell groceries. And while Loblaws is the largest grocery chain in Canada, the Loblaw brand did not make the list though three of its sub brands did.

Shoppers Drug Mart was at number 21 with a brand value of $1.447 billion, and Real Canadian Superstore and Atlantic Superstore came in at 27, with a brand value of $1.1 billion, while President's Choice was number 36 with a brand value of $449 million.

Empire's Foodland was number 32 valued at $481 million, while Sobeys came in at number 37 valued at $392 million.

Aside from being at number 19 for the Metro brand, the company has the last three spots on the top 40 list with Super C at number 38 worth $281 million, Jean Coutu at number 39 worth $367 million and Food Basics at number 40 worth $339 million.

The BrandZ Canadian site provides detailed information about methodology, snapshot profiles of all 40 brands as well as big picture trends in consumer behaviour and their intersection with brand building.

For instance:



"The retail apocalypse that has unfolded south of the border has not replicated itself to any large degree in Canada," it states. "Instead, retail has transformed to become more enjoyable, streamlined, and digitally integrated. Canadians are bargain hunters and reward retailers who offer great value and shopping experience. Brands need to optimize their digital and physical presence to find growth in the omnichannel era or risk being left out."




"Globally, more and more consumers are attracted to local, organic, and various stripes of healthy products. Count Canada out," states the report. "By a wide range of measures, Canadians lag global averages on such things. Only 49% seek out natural foods (vs. 66% globally), only 23% buy organic (vs. 35% elsewhere), and only 24% are interested in detoxifying (32% globally)."