Mothers of reinvention (column)
Millennial moms are putting bread on the table, but they aren't baking it.
Maybe you have heard: there's a new generation in charge. The millennials, aged 18 to 34, now make up 23% of Canada's population and spend a hefty $255 billion a year.

A lot has been written about millennials. But if there's one thing to know about them, it's this: they're having kids. This means there is a new type of mom visiting your stores and buying your products: the YEMMie, or Young, Educated Millennial Mom.

Forty-three per cent of female millennials, or 1.7 million Canadian women, are YEMMies. As more millennials start to have kids, the number of YEMMies will skyrocket. At Ipsos, we anticipate there will be four million YEMMies in Canada within 10 years. Clearly this is a customer that's worth getting to know.

YEMMies are a product of their upbringing. From preschool to post-graduate studies, this generation of new moms was raised in a highly structured environment, with many attending schools and other institutions for more than one-quarter century. As a result, YEMMies prefer to do a lot of research, get a lot of feedback and do a lot of consulting to make sure they're making the right decisions for their families.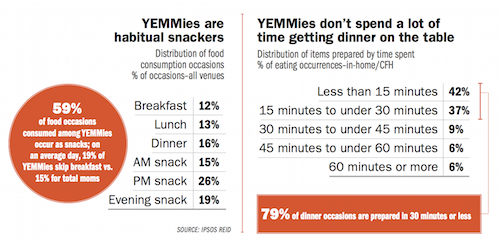 YEMMies tend to be highly educated and have a university degree. The average age of a YEMMie is 29, her spending power is significant and, like all millennials, she's super tech savvy. A typical YEMMie consumes nearly eight hours of media a day–a staggering amount given her busy schedule with work and kids. (Not surprisingly, 60% of her media consumption is digital.)

It's true that millennial women are waiting longer than females of earlier generations to start families. But that doesn't mean they don't want kids. Nearly 75% of millennials value parenthood over marriage. They say being a parent is not only a priority, but also a top life aspiration. Oh, and YEMMies are contemplating big families. One in three say they want three or more kids.

Like many moms, YEMMies are trying to balance parenthood and careers. To conquer domestic chores, YEMMies and their partners are more evenly dividing the day-to-day, at-home chores. A whopping 42% of the men in millennial families report being involved in the daily meal preparation. That's almost twice as many as males in 65-plus households.

YEMMies want real food for their families. They are a new breed of moms who've grown up having product facts and ingredient lists available right at their fingertips.

As such, a whopping 67% are motivated to feed their families products made with real, natural foods without artificial flavours, colours or preservatives, and without GMOs, antibiotics or added hormones. YEMMies are also more motivated than most to buy local food.

YEMMies were raised with the expectation of being able to have it all quickly. They tend to look for convenient food options that save time and effort.

But even in their pursuit of real food solutions, YEMMies are still not necessarily cooking meals from scratch or baking their own bread the way moms once did. Forty-two per cent of YEMMies spend fewer than 15 minutes preparing dinner, compared to 31% of total moms.

YEMMies are a combination of progress and tradition. Like past generations, they yearn to do things differently–better than their parents, let's say. Minus the bread baking.

Kathy Perrotta is vice-president of Ipsos Reid in Toronto. This year's edition of Canada CHATS, a food and beverage trends reports from Ipsos, looks at YEMMies and how hey compare to moms of past generations.