The new startup? Go niche
Meet a group of entrepreneurs looking to take their own piece of the grocery pie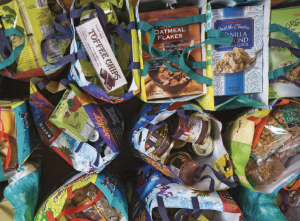 It's late August, and Vancouver resident Mike Hallatt is suffering from a case of "shopper's arm" brought about after buying groceries at the popular U.S. chain Trader Joe's. He's bought roughly $1-million worth over the past four years. "It's a lot of grocery bags, all stuffed into the back of a Honda," he says.
Hallatt is the owner-operator of Pirate Joe's, a 1,350 sq.-ft. store in Vancouver that re-sells products from Trader Joe's at a 30% to 40% mark-up. He even prints new nutrition labels for the products in order to meet Canadian labelling rules.
Hallatt's been banned from Trader Joe's throughout the U.S., but that hasn't stopped him. He employs a team of covert shoppers who bring thousands of dollars' worth of merchandise across the border. He's even been known to wear a disguise to shop at Trader Joe's himself.
There are no Trader Joe's in Canada, but many Canadians who visit one stateside fall in love with the company's many unique house brand products. Hallatt says he's merely bringing the people what they want.
Pirate Joe's is one example of innovation occurring in grocery, which in recent months has given rise to a wave of nichestartups catering to affluent but time-poor consumers. A recent Forbes article noted grocery delivery startups around the world raised US$429 million in funding in the first five months of 2016, ranking ahead of their meal delivery counterparts.
But while delivery has emerged as a key area of focus—take Instabuggy and Urbery, for example—entrepreneurs are also introducing hyperlocal products and services aimed at transforming everything from the in-store experience to the products we buy. "These companies are really banking on millennials and their lifestyles," says Sylvain Charlebois, dean of management at Dalhousie University. "They're trying to fit in some way and increase their business, instead of just moving into an address and waiting for people to come in."
Hallatt believes Pirate Joe's popularity is proof Canadian grocery retailers need to "take it up a notch. It's their duty as the primary supplier of food to the kids of Canada," he says. "They should just stop trying to squeeze every dime out of their P&L and start thinking about what Canadians should be eating."
While Pirate Joe's brings food to Canadians from one of American's favourite grocery stores, another startup is focused on more local ones. Cartly is an online delivery service catering to the Greater Toronto Area's growing South Asian population, providing access to more than 7,000 products from companies including MTR, India Gate, Tilda, Priya, Deep Foods and Shan.
Founder and CEO Praveen Korukonda says about 70% of the products offered by Cartly are ethnic. The company primarily serves customers in Brampton, Etobicoke and North York, although it's also creating packages of non-perishable items that can be sent across the country. Cartly works with several Toronto-area ethnic grocers, includingIndia Bazaar and Fresh Food Market.
Korukonda won't say how many orders the company fills in a typical month, but says that between 60% and 70% of customers are repeat users. Average basket size ranges between $75 and $80—approximately double the size from when the company first launched.
One of Canada's newest grocery startups is more focused on helping customers find their food than bringing food to them. Launched in July, Aisle Magic promises to make navigating through supermarkets quicker and easier by organizing 2,000 product categories by aisle for individual stores. Its founder Rajiv Oberoi says his app can shave as much as 20% off the time of a typical grocery trip.
Aisle Magic works by inviting users to create a shopping list, and then guides them through a selected store on an aisle-by-aisle basis, eliminating back-tracking and futile product searches. "People maybe don't want to go to the store because it takes too long, but we're offering an experience where they can go and know where things are," says Oberoi.
As of late September, Aisle Magic will provide detailed information for more than 200 Loblaws, No Frills, FreshCo, Sobeys, Metro and Longo's stores throughout the Toronto Area. It relies on its users—it has been downloaded approximately 500 at press time—to provide updates when a store's layout changes.
Think of it like navigation app Waze, but for the grocery store. The founders of all of the companies claim that they're addressing a market need, but the one problem with being at the helm of a smaller company is a smaller profit. "One of the challenges will be making money in it longterm," says Bruce Winder, a Toronto-based retail consultant. "If you're a small you'd better be the best of the best."