Recall of apricot kernels expanded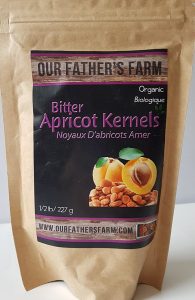 Our Father's Farm brand of apricot kernels has been added to a national recall, including Organic Traditions Dried Bitter Apricot Kernels, because they contain excessive amounts of a natural toxin called amygdalin, which can cause acute cyanide poisoning.

The recall on Our Father's Farm brand covers Bitter Apricot Kernels sold in 227-gram pouches with UPC 7 18122 91750 1, and Extremely Bitter Apricot Kernels also sold in 227-gram pouches with 7 18122 91760 0.

This recall was triggered by Canadian Food Inspection Agency (CFIA) test results. The CFIA is conducting a food safety investigation, which may lead to the recall of other products.

There have been no reported illnesses associated with the consumption of this product.