Shurrie steps up
Continuing to champion the independent and fighting for a fair and transparent grocery marketplace are among the new CFIG chief's goals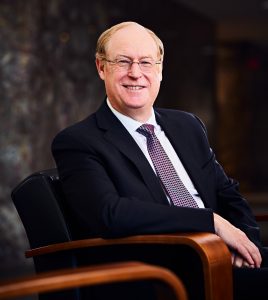 Like so many folks in the business, Tom Shurrie's introduction to the grocery industry came early. In his case, it was at age 16 when he landed a job at the A&P in Stratford, Ont. After university he continued to work in the food biz, racking up experience at a string of CPGs (Conagra, Parmalat), retail (Longo's) and on the broker side (Acosta), too. In 2017, he joined the Canadian Federation of Independent Grocers (CFIG) and last December was named president and CEO of the 57-year-old association.

We caught up with Shurrie recently to discuss what's next for the organization, the outlook for Canadian independents, and more. Here are edited excerpts from the interview:

As you stepped into this role, what was the best advice you received?
I would summarize the best advice as follows: Be yourself, listen to all, understand issues with facts, develop perspective and partnerships with many, and make decisions with a goal to provide options and solutions for the membership.

What are CFIG's goals, both immediate and long-term?
Our long-term goal is to enhance CFIG and for it to be noted as the single voice of the independent grocer across Canada. We can achieve this by growing our current partnerships and creating new ones in the areas of advocacy, member services programs and commercialization opportunities. Within these partnerships we will be advocating for a fair and transparent grocery marketplace where independent grocers and suppliers can compete on a level playing field.

With constant change and disruption in the industry, it's crucial we provide a united voice and representation across all regions and jurisdictions on policy matters. A recent example of growing partnerships that not only helped independent grocers but many small businesses was when CFIG led the Small Business Matters Coalition fight for a small business tax reduction. The rate was reduced, effective this January, to 9%, which I have been told is the lowest small business tax rate in the G7.

What would you say are the big challenges facing independent grocers today?
There are many challenges that come up every day; however, one major challenge is the impact consolidation and competition is having not only on independent grocers but also with the supplier community and the industry overall. CFIG's view has been that a code of conduct is now needed to restore fairness within our industry. Other countries, such as Australia and the U.K., have developed codes of conduct, which has helped reset the retailer/supplier trading standards and relationships. We believe that within government, there will be support for our industry and government to develop such a code.

How are independents positioned to tackle the competitive challenges they face?
I feel that as entrepreneurs they are positioned well to succeed, especially when a fair and transparent industry landscape is achieved. Independents are also in a great position to be ahead of the trends and can differentiate, customize and adapt their services to the market in which they compete. Just look at our current chair, Christy McMullen, and her thriving Summerhill Market, which has been expanding its fresh, health and wellness, oral and store-made product offerings to meet customer demand in a highly competitive Toronto urban marketplace. We also see this ability to adapt quickly in some of our newest members Blue Sky, Al Premium and Pacific. All three of these unique retailers provide an extensive eat-in/takeout food offering as well as an array of fresh items selected for the diverse communities they serve.

What are the opportunities for independents?
Opportunities lie where independents have always been the best: knowing and serving their customers. Independents must use their size, federation voice and partnerships to their advantage and do this better than ever before. From knowing their demographics and working with their suppliers to satisfy the preferences of their customers, to using customer data from their loyalty programs, to the old-fashioned meeting and greeting of customers; it's all about getting back to the basics. Independents can also drive opportunities by enabling new technologies that could provide them with the tools to compete against the biggest Goliaths in the industry. From more effective shelf management to using technology to provide ecommerce options, the key is independents will have to continue to adapt quickly.

What would you say is the best part of your job?
Every day is different and never boring.