05/01/2019
The Sweet Potato introduces black plastic recycling program
New partnership with TerraCycle aims to divert takeout food containers away from landfills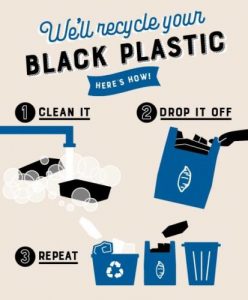 Black is the new recycling for The Sweet Potato.

The Toronto grocer recently introduced a recycling program for black plastic after belatedly discovering it is not accepted by the City of Toronto. In a recent blog post announcing the program's creation, The Sweet Potato said it was surprised to learn that Canada's largest city doesn't recycle black plastic.

The company said it believed it had made a "prudent and environmentally sustainable choice" when selecting its own black plastic containers, only to discover it had unknowingly contributed to the problem of plastic waste.

"It just seems crazy that all these people are at home with black plastic from us and it suddenly has to become garbage," The Sweet Potato's founder and co-owner, Digs Dorfman told Canadian Grocer. "So we just decided to let people bring it back themselves."

The Sweet Potato is inviting customers to bring clean black plastic and baby food pouches to the store's customer service desk during operating hours. It will accept black plastic even if it isn't from its store, said Dorfman.

Black plastic containers are a mainstay of restaurant and grocery stores, used primarily for takeout food items such as rotisserie chicken. The Sweet Potato had been using black plastic containers in its grab-and-go business, as well as for items such as cut vegetables and fruit (the company has since stopped using them in the produce department and will soon phase them out in its prepared food section, said Dorfman).

While neighbouring municipalities including Brampton, Mississauga and Caledon all recycle black plastic, Toronto said it was unable to do so for two reasons: It can't be mechanically sorted at the recycling facility because it is not recognized by the optical sorting technology, and there is "no stable market" for the volume of black plastic generated by the city.

As much as one-third of the material in blue bins is improperly disposed of, according to the city's website, with black plastic among the primary offenders. It urges residents to dispose of it in the regular garbage.

The Sweet Potato's new recycling program is being carried out in partnership with TerraCycle, which will send the plastic to its facility in Fergus, Ont. TerraCycle, which bills itself as a global leader in collecting and repurposing "hard-to-recycle" waste, said it had recycled billions of pieces of waste since its 2001 formation.

Sustainability and the environment are among The Sweet Potato's core values, said Dorfman. "It's pretty central to what we do," he said. "Environmental concerns are one of the most significant priorities for us whenever we're making any type of decision."

The store is promoting its recycling program through a combination of in-store signage and social media posts, said Dorfman. Staff have also been trained to answer customer questions about the program.

The Sweet Potato stressed this wasn't intended to be a permanent solution, noting it didn't believe private solutions were the appropriate fix for public programs such as the state of public recycling infrastructure.

"We hope you will continue to advocate for a more sustainable civic infrastructure," states the blog post. "In the meantime, however, we're very glad that we won't all have black plastic cluttering up the place or going needlessly to landfill."

The Sweet Potato's program comes amid growing awareness of the environmental impact of plastic waste and increased consumer pressure on businesses of all types to eliminate single-use plastics.

Grocery chains around the world have introduced initiatives aimed at curbing single-use plastic items such as bags and food packaging. Last month, for example, Metro announced it would allow its customers to shop using refillable containers.