Target teams up with Chatelaine for bonus edition
The retailer has created a Target-inspired issue of the women's title, complete with features dedicated to food
Target Canada has brought its "Expect more. Pay less" positioning to life for Chatelaine subscribers and its customers, partnering with Rogers Publishing on a bonus 13 edition of the monthly women's title.

The Target-inspired issue mimics a regular issue of Chatelaine, said publisher Tara Tucker, with regular departments devoted to apparel, home décor, beauty, food and healthcare. The only content eliminated from the special issue was the real-life stories that are more "journalistic" in nature, said Tucker.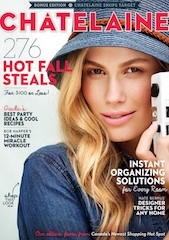 Tucker called the 132-page issue (including 52 ad pages) a North American first. While there have been single-sponsor magazine issues in the past (Target itself was the sole sponsor of a 2005 issue of The New Yorker), what distinguishes the special issue of Chatelaine is that all of the editorial content is inspired – though not influenced – by the retailer.

"It's pure editorial that Target had no involvement with… yet the entire issue is inspired by the Target Canada experience," said Tucker. "We're finding what's extraordinary in Target's assortment and bringing it to life for our readers. It's pure editorial that maintains the integrity of the magazine."

"The only thing I've seen is a sneak peek of the cover," said Livia Zufferli, director of marketing for Target Canada. "I'm similarly excited to see a first copy."

The magazine features four covers, each identifying it as a bonus edition and proclaiming "Chatelaine shops target." Each cover photo invites readers to "shop this look" while additional copy at the bottom of the cover reads "Our editors' faves from Canada's newest shopping hot spot."

Zufferli said that the initiative was conceived about six months ago as a way to promote the retailer's fall product line. She called it a key plank in Target's fall marketing efforts.

The special issue will spotlight the owned and exclusive brands at Target, including limited-time products such as 3.1 Phillip Lim for Target, its Threshold line of home décor, its Beaver Canoe apparel line and core owned brands including Merona, Mossimo and Giadi de Laurentiis cookware products.

Canadian Grocer got a copy of the new issue hot off the presses, and food-focused features and advertisements highlighted Archer Farms and Market Pantry products (Target's private label lines), Jamie Oliver's food line, as well as ktichen housewares carried by the retailer.

"It's really going to be a great selection of our designer partnerships and owned brands, helping the Canadian audience see what we offer that they might not expect," said Zufferli.

Target also plans to distribute copies of the special issue as a free gift with purchase on Sept. 23.