08/04/2016
Meet the "sauce boss" who's taking vegan mainstream
Nona Vegan Foods founder Kailey Gilchrist found that even meat-lovers will buy into vegan foods—with the right message
Over the past three years, Kailey Gilchrist has turned her late mother's recipe for cashew-based alfredo sauce into a bustling vegan food company, Nona Vegan Foods, whose award-winning fare is beloved by plant and meat eaters alike. In May, she was named Entrepreneur of the Year by Futurpreneur Canada. She tells us about her mother's influence, figuring out how to market vegan food to any shopper, and how she plans to expand next:

"Growing up, food was a huge part of my life. My mom was Italian, and she had been a little hippie vegan at a time when no one was vegan, so I grew up drinking almond milk and rice milk and eating my mom's homemade cashew cream sauce. So it was not an impossible leap when, at age 15, I said, 'I'm gonna be a vegan!' My mom was totally supportive, and she and I got really into vegan cooking; it became a huge part of our relationship. Together, we developed the cashew cream sauce she'd been making for years into other recipes, including a really rich and creamy alfredo sauce.

"In January of my final year at university, my mom was diagnosed with lung cancer, and she died less than two months later. I was 23, and it totally spun me out. I spent most of that time cooking up a storm, most often making our alfredo sauce, because it felt right. That's when my sister said to me, 'You should be selling this. You should start a business.'

"I'd been working at a health food store, so I knew there was nothing like my sauce on the market and also knew people were asking for vegan sauces that weren't made of weird ingredients. So I got a commercial kitchen, incorporated and bought some liability insurance. It's food; I didn't want to mess around. Then I started selling jars of the sauce to the store where I worked.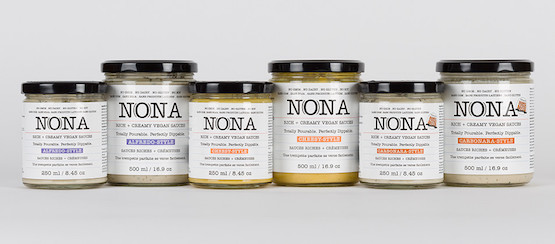 "I got more stores to carry my sauces by offering to do free in-store demonstrations. It took me a while to get my pitch to consumers down. When I'd say, 'Hey, want to try my vegan alfredo?' people would scuttle away. But the sauce has so many features beyond being vegan, so I started using phrases like 'lactose-free,' 'gluten-free,' 'cholesterol-free' and 'easy to prepare.' That drew people in.

"In 2014, at the Canadian Health Foods Association trade show, I started talking to a guy with no name tag. I was blabbering on, making jokes and telling my story. He said, 'By the way, I'm a vice-president at Whole Foods, and I'm very interested in your food.' It was amazing, and even more amazingly, he followed up: Whole Foods started selling Nona sauces in early 2015. That was a pivot point.

"A few months later, I entered a dish made with our cheesy-style sauce in the Toronto Mac and Cheese Festival. Some customers recommended I do it. I laughed it off at first, because the festival was for people who were not in my key demographic at all, but then I thought, You know what? Who's to say these people don't want a delicious and healthy option? Our vegan mac and cheese ended up winning Best in Fest. That was another turning point, because it solidified the fact that we didn't have to market to just vegans. Today, vegans are maybe 10% of our overall customer base.

"My next step is to start supplying our products to restaurants, universities and hospitals—places that typically don't have many vegan options beyond a garden salad, minus cheese, bacon and ranch dressing. We're also working now to expand our retail presence across Canada and in the U.S. And we're able to make a compelling case, because we can say non-vegans like it."

This article first appeared on CanadianBusiness.com