03/26/2019
UPDATED: Out-of-stocks cost retailers $63 billion in sales: Field Agent
New survey finds consumer loyalty is tested when products aren't available
CORRECTION: The original headline of this story stated "Out-of-stocks cost grocers $63 billion in sales," when, in fact, out-of-stocks has been estimated to cost all Canadian retailers $63 billion in sales.  Canadian Grocer regrets the error.

A lack of open checkouts and crowded aisles may be annoying to grocery shoppers, but their biggest frustration is finding a desired product is out of stock, according to new research from Field Agent.

The retail data insights and consulting firm surveyed 1,775 Canadian shoppers about on-shelf availability during their weekly grocery shop. Field Agent conducted the survey ahead of the launch of a service called the On-Shelf Availability (OSA) Monitor Canada that tracks the availability of a basket of goods on weekends.

According to Field Agent, out-of-stock product costs Canadian retailers as much as $63 billion a year as consumers who are ready to buy, leave the store empty handed.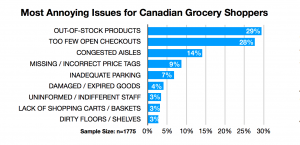 Asked about the most annoying issues during grocery shopping, out-of-stock products was the most common complaint (29%), followed by too few open checkouts (28%) and congested aisles (14%).

"What surprised us the most was that almost a third of consumers state that out-of-stocks are their number one annoyance when grocery shopping," said Ralph Chiarot, director of operation and client services for Field Agent Canada.

Shoppers were also asked what they did when the product they were looking for wasn't on the shelf. Often the answer was go to another store. "Although I understand that product stock dwindles throughout the day, I don't find it acceptable when many items are out-of-stock well within business hours," said one survey respondent. "I am extremely loyal to this store, but when items are consistently not in store it makes me think about changing my loyalty," said another.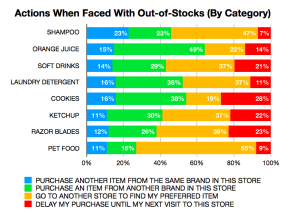 Asked how many out-of-stocks they experienced on their last grocery shopping trip, the average was 1.4 SKUs per trip and 61% of respondents reported at least one out-of-stock on their last trip to the grocery store.

"Reduced labour, reducing inventory levels at store back room, and at the warehouse, are all contributing to a higher incidence of out-of-stocks on the weekends," said Chiarot. "As well, store staff and third party merchandisers tend to operate on a Monday to Friday basis. Just compare what a typical section looks like on a Saturday afternoon with out-of-stocks vs. Tuesday morning where you see a perfectly faced section with no holes."

The problem on-shelf availability could also worsen before it gets better as more stores add online sales and pickup to the mix. "Forecasting models may not be set up to account for both online and in-store grocery purchases at a particular store," he said.

To produce its new out-of-stock tracking service Field Agent will track 20 consumer packaged goods at 100 stores across Canada.

Based on its tracking so far, ice cream and canned soup were the most likely to be out-of-stock with an average of 5.9 and 5.4 out-of-stocks per store, followed by yoghurt (4.7), shampoo and conditioner and cookies (both 4.6).