03/22/2021
What's next for click-and-collect?
Yes, the robots are coming, but the future is about both no-touch and high-touch service
Pre-2020, grocery shoppers circling the parking lot might have wondered in mild frustration why all those primo spots were reserved for store pickup only. They were usually empty. It wasn't that the newfangled service didn't do what it promised; most people just preferred to do the shopping themselves.

Fast-forward to the height of COVID-19, when the era of click-and-collect arrived with a vengeance, and the frustration got real. "Going to a retailer's website, customers were lucky to get a timeslot that wasn't two or three weeks out," says Sylvain Perrier, president and CEO at Mercatus Technologies, a Toronto-based grocery e-commerce specialist. On top of that, there was a lack of product availability, which led to an inordinate amount of substitutions, he adds.

Months later, some customers were still feeling short-changed with the click-and-collect experience. Canadian Grocer's October 2020 survey, "2021 Grocery IQ: Taking Stock of Grocery Shopper Attitudes and Behaviours," found that among consumers who shopped for groceries online (click-and-collect and delivery), 43% were completely or very satisfied, 44% were somewhat satisfied, and 13% were not very or not at all satisfied.

The top reasons for not being completely satisfied were: products were out-of-stock (44%), fees are too expensive (35%), unhappy with product substitutions (29%), and unhappy with the quality of products (22%). Other reasons were: order was picked incorrectly (15%), pickup/delivery window too far out (14%), and the process is too complicated (14%).

While click-and-collect has improved since it took off, it's crucial for grocery retailers to address pain points and improve the service as its growth trajectory continues. "The best way for grocers to improve their customers' experience with click-and-collect is to accept the fact that it will be where they get most of their growth in the next year or two," says Bill Bishop, chief architect at Brick Meets Click, a strategic advisory firm based in Barrington, Ill. "Once they've got their mind around that, they need to put in place all the necessary labour, technology and marketing to rapidly grow the business."

Tackling the pain points
To start, grocers should look at solving customers' biggest issues with click-and-collect today, including:

Out-of-stocks: As many click-and-collect shoppers learned last year, just because you can add items to your cart, that doesn't mean they're in stock. "A lot of retailers have not connected their e-commerce platforms directly into their inventory systems," says Perrier. "So, when you're logging in as a consumer and you think you're buying bananas, the reality is you are unaware if that product is available in the preferred store from where you're getting your order."

The fix, of course, is the right technology. "With out-of-stocks, you have to figure out a real-time inventory solution, and that requires a technology upgrade," says Sameer Anand, a Chicago-based partner at management consulting firm Kearney. He says grocers are experimenting with technologies like RFID, vision sensors and weight-sensing technology to get an accurate view of their in-store inventory.

"I don't see this getting solved tomorrow, but experimentation is happening with IoT technologies," says Anand. "Importantly, the solution has to speak to the software and communicate that so consumers can see an updated number. So, when an item is out of stock, they won't be able to order it. The frustration comes when [the website> says an item is available and it's not."

Product substitutions: Substitutions are a serious issue for retailers to solve, as unacceptable substitutions can impact the bottom line. According to Brick Meets Click, 2% of sales that customers intended to spend were forfeited due to out-of-stocks that didn't have an acceptable substitute. This figure is pre-COVID, so the lost sales rate is likely now considerably higher, according to the company.

Bishop has a couple of tips on how to improve customer satisfaction with product substitutions: texting between the customer and order-picker, and substituting products that are worth more. On the latter front, "the customer can see they are really getting something 'a little different and better' in return for being inconvenienced," he says.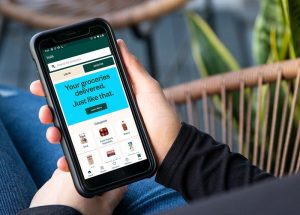 Grocers can also leverage artificial intelligence and machine learning to fix the problem of poor product substitutions, notes Simon Mayhew, head of online retail insight at IGD Retail Analysis in London, U.K. "In fact, the best retailers in the world, such as Ocado, have been using artificial intelligence for ages," he says. "They'll look at what customers ordered and if an item is unavailable, [AI> will work out
the likely substitution that would be accepted."

Amazon Fresh is also using machine learning for product substitutions. According to a recent post on the Amazon Science blog, decisions related to substitutions are driven by a machine-learning model to generate pairings between different products. The model assigns a rank to each pairing using human opinion as a source of training data. This allows Amazon Fresh to analyze the rankings between different pairings and recommend the most apt substitutions.

Product quality: When it comes to product quality, the big pain point is on the fresh side. "Customers want to pick out their own items, they want to make sure they get the right weight and that it's the right quality," says Mayhew. "They have their own expectations of what fresh products should look like, and this is a challenge for the whole of online."

One solution is training store associates to ensure they pick quality products, get the quantities right, and check the best-before dates. Mayhew says another solution is the concept of warerooms, whereby retailers create a "dark store" within a store that's stocked with fresh products that are only for online orders. "By doing that, you can ensure you've got high-quality fresh products available all the time because they're not being bought by offline shoppers."

The future of click-and-collect
There's an innovative future ahead for click-and-collect, as grocery retailers evolve their models and adapt new technologies. In fact, those parking spots where customers dial a telephone number and wait for someone to bring out their order might seem positively dated in the near future.

In the United States, Target has added geo-fencing technology to its app. Customers who create a "Drive Up" order notify the store via the app when they're ready to leave for the store. Once they get there, if their location services are turned on, an employee is automatically alerted that they've arrived. Customers can also notify the store through the app and a staff member will bring out their order.

"I think Canadian retailers need to take a page out of Target's [book>, where the fulfillment methodologies are much more sophisticated and not more costly, quite frankly," says Mercatus Technologies' Perrier. "[Target's service> leads to a better customer experience and a better ROI on the fulfillment process for the retailer, reducing their cost on labour."

The million-dollar word for the future, though, is automation. "This is a big one and there will be a lot of money spent on this," says Mayhew. He points to French retailer Carrefour, which is piloting a fully automated pickup point in Paris. The "pedestrian drive" concept, developed by Polish company Retail Robotics, lets customers scan a QR code when they arrive. An automatic device brings their order from the storage area to a hatch for the customer to collect. "We're going to see more automation and more city-centre click-and-collect points," says Mayhew. "This is not just about cars driving up to a store in the middle of nowhere."


Walmart Canada is also making investments in automation. The retailer recently started construction on its
first fully automated market fulfillment centre, located in Scarborough, Ont. The 22,000-sq.-ft. space will automate online grocery picking and dispensing, with picking speeds up to six times faster than manual store picking, according to the company.

The new space will also feature automated kiosks that serve as vending machines for online grocery orders and can serve up to five customers at a time. Customers drive up to a dedicated parking spot, enter a code and their order will appear in less than two minutes. The new space, a partnership with intelligent automation provider Dematic, will open later this year.

As part of Walmart Canada's e-commerce acceleration plan, the retailer is also expanding its grocery pickup service to more than 60 stores this year, which means 85% of its stores will offer the service. It's also piloting ring scanner technology, allowing employees to pick and scan items faster by working hands-free. In a statement, Walmart Canada president and CEO Horacio Barbeito said: "Our customers want choice of service and we see the demand for online shopping continuing. We are ramping up our e-commerce offering with a focus on speed, accuracy and service."

Other major grocers in Canada are making big bets on click-and-collect after 2020's sales surge. Sharon Lansing, vice-president, online grocery at Loblaw Digital, says the demand for both PC Express pickup and delivery increased significantly when the pandemic hit. Loblaw quickly scaled up by hiring new personal shoppers and adding thousands of slots every week. "Evolving and perfecting online grocery will continue to be a key driver now during COVID and in the future," she says. "Customers have become more accustomed to digital technology within the last year and will only expect faster and more convenient solutions going forward."

Metro is also expanding in this area, as it continues to make e-commerce gains. Its online grocery sales grew by 170% in the first quarter, which ended Dec. 19, 2020. "The accelerated deployment of our click-and-collect service has begun with 19 additional Metro stores now offering the service," the company said in an email to Canadian Grocer. "Our plan now calls for more than 170 Metro stores to offer click-and-collect by the end of the fiscal year, serving about 75% of the Quebec population and half of the population of Ontario." This summer, Metro is planning to open a distribution centre in Montreal that will be dedicated to fulfilling online orders.

While it might seem like perfecting click-and- collect requires deep pockets—robots aren't cheap, after all—there's an opportunity to engage click-and-collect customers with high-touch experiences. For example, Greensboro, N.C.-based The Fresh Market rolled out "The Friendliest Curbside Experience in America" to its 159 stores across the United States. Click-and-collect customers are assigned personal shoppers; orders are double-checked by managers and verified with their signatures; and the retailer delivers "wow moments" like having Santas bring out the orders during the holidays.

Examples like The Fresh Market speak to the broader trend of personalization, which has many applications for click-and-collect. "Retailers have a lot of information on customers through their loyalty cards and they can really take [personalization> to the next level, where they know what each customer wants," says Kearney's Anand.

Aside from things like personalized offers and coupons, Anand says there's an opportunity for more customization on the experience side. For example, during the pandemic, Sam's Club launched a concierge shopping service for seniors and those at risk. From a designated parking spot, members call in their order and a personal shopper grabs the items and brings them out of the car, facilitating a more human, personal experience. "There's going to be a whole gamut for personalization that will play out," says Anand.

Whether it's high-touch or no-touch, the opportunities for click-and-collect are endless. However, Anand stresses that when it comes to channels, it's not a one-size-fits-all approach. "Delivery and click-and-collect options are now in consumers' wheel-houses, but it doesn't mean they will never enter a store again," he says. "The experience is what the consumer desires. Make it convenient for them if they're shopping online and give them the physical store experience if they're shopping in person. So, all those are on the table and that, to me, is how grocers have to define the experience."

This article is part of Generation Next Thinking--an ongoing series that explores cutting-edge topics that will help grocers gain the knowledge they need to tackle the future of this rapidly-changing industry.