04/11/2016
Who's winning the grocery cart wars?
Metro, Loblaw and Sobeys are battling for customers, market share and shareholders.
Peace has returned to Canada's grocery aisles. Target Corp., the much-heralded new entrant upon its arrival in Canada, in 2013, has been banished to its homeland, a victim of the fickle Canadian consumer and a hopeless supply chain that practically guaranteed failure. During Target's short, two-year tenure, Canada's Big Three grocers—Loblaw, Metro and Sobeys—struggled to maintain margins already dented by the success of U.S. giants Walmart and Costco. Target, of course, wasn't much of a factor in the assault. Its grocery aisles were practically ghost towns.

But Walmart and Costco ratcheted up the pressure with millions of new square feet of retail food space and low prices. Heavy discounting drove traffic, resulting in zero growth and deflationary pricing.

But the Big Three persevered and emerged in remarkably good shape. The industry's square footage growth has returned to its former staid level, and while the threat of more newcomers (such as German limited-assortment dis- counter Aldi) will never go away, there's hope that the no-growth, discount-mania malaise is over.

READ: Experts talk strategy behind the grocery wars

That sense of optimism began last year with a shot of inflation that eased price pressures on retailers. Lower gas prices also meant consumers didn't have to pinch pennies nearly as much at the supermarket. CIBC World Markets analyst Perry Caicco declared 2016 would be a return to the "glory days" for big supermarkets.

But now a new battle is underway. Or, more accurately, as Loblaw, Sobeys and Metro renew their quest to take market share away from one another and everyone else. The good thing for consumers and observers is that this fight is operating on many different levels—in stores, online, financially and in the court of public perception—that are as intertwined as much as they are separate.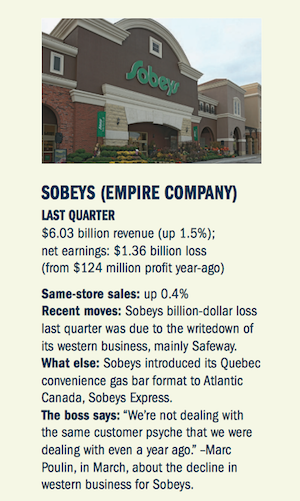 The most obvious battleground, of course, is in the store. Here, overall industry volume is still stubbornly low. For the 12 weeks to Sept. 19, 2015, unit growth of consumer packaged goods across all retail channels was only 1%, according to Nielsen MarketTrack. Dollar growth, thanks to inflation, was 3%.

The Big Three also face competition from specialty and convenience stores. In December, supermarket sales dropped by 1.7%, according to Statistics Canada. C-stores and specialty shops were up slightly. The Big Three also must contend with the ongoing expansion of ethnic supermarkets. The latest is Seafood City, a California-based Filipino-styled supermarket that operates 23 stores in the U.S. It's coming to Toronto. Then there's B.C.-based indie-chain Overwaitea Group, which is expanding its Save-On-Foods banner across Western Canada.

READ: One year later, who's winning the grocery wars?

Another challenge for the Big Three is consumers, whose shopping habits have changed. Sylvain Charlebois, a professor at the University of Guelph's Food Institute, says shoppers are spending five minutes less in food stores than they were five years ago, which he interprets to mean that a growing number of consumers are showing up with a pre-planned strategy to buy certain products. That can make smaller stores more appealing, given the limited selection and the convenience factor.

"Consumers are spending more on food, but not necessarily at the grocery store," Charlebois says. "Grocers offering more counter-ready products, or even in-store service, would gain from current market trends."

That could apply to all three of the big players since their conventional banners in particular now all offer takeout meals, but also many of the smaller stores and convenience chains. For example, 7-Eleven is aggressively pushing its ready-to-go meals that range from expected bites, such as hotdogs and pizza, to the less expected taquitos and salads.

Charlebois says it is believed that 30% of the money Canadians are saving from lower gasoline prices is being spent on "out-of- household food consumption." Given that additional spending, combined with people's desire for convenience, Charlebois believes that Loblaw has "the upper hand right now over the other two top grocers," mainly because it now owns what might be the ultimate convenience food shop destination: Shoppers Drug Mart.

The convenience factor has yet to push online grocery shopping to the next level at least in most of Canada, where online sales represent less than 1% of total food purchases, according to Dublin consulting firm Profitero, compared to 4% in the U.K.

Almost 90% of Canadians have never tried online grocery ordering, according to a survey by Mintel Group; and 68% have no interest in doing so. Grim numbers for the future of this sales channel, to be sure.

READ: Get ready for online grocery's rise

Still, for the first time, an ecommerce battle appears to be brewing. In addition to Amazon, Walmart and online stores operated by regional grocers, such as Overwaitea in B.C. and Longo's in southern Ontario, this year, for the first time, all of the Big Three grocers will sell food online. In February, the last holdout, Metro, announced that it would begin a test later this year.

Meanwhile, in Toronto, three competitors are now vying for the online grocery customer's fresh-food dollars: Loblaw, Longo's, through its Grocery Gateway business, and Walmart, which launched a click-and-collect service in February. (Loblaw and Walmart are also butting heads in Ottawa on click and collect.)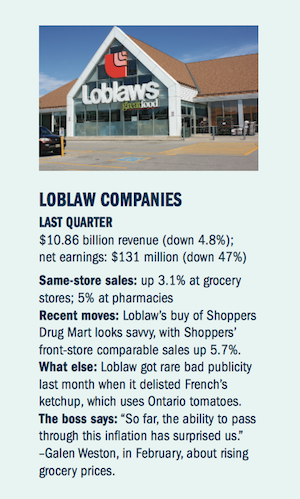 Which of the Big Three will do best in ecommerce is debatable. Sobeys has probably had the most success to date. It has offered home delivery through its IGA banner in Quebec for years. Sobeys now also delivers through its Thrifty Foods division in B.C. The company plans to roll out online grocery shopping to the rest of the country this year.

Loblaw, meanwhile, implemented click and collect, in 2014, in Toronto, and has since extended across Ontario and Western Canada. Metro has yet to reveal its strategy (delivery or pickup, for instance) but "our view is that Metro will begin testing click-and-collect in Quebec," National Bank analyst Vishal Shreedhar said in a note.

Metro's late entry into ecommerce is par for the course for the country's third-largest food retailer. Indeed, aside from its lack of exposure to the crumbling Alberta economy, the fact that it's cautious about big projects has endeared it to investors. Earlier this year, U.S. financial website Seeking Alpha was so taken by Metro's finances and operations that it anointed Metro the second best-run grocer in North America

(behind American chain Kroger). Metro's stock market performance certainly shows investors are pleased by the company's strategy and performance. In the past year, as of March 4, Metro shares have gained 22.6%, far exceeding the 11.1% decline by the S&P/TSX composite index during the same period. Loblaw shares gained 14.1% during the same period while Sobeys' parent, Empire Company, dropped 16.1%, an indication that investors believe its struggles to integrate Safeway and install a new SAP software system is ongoing. Just three of 10 analysts who cover Empire's stock  have the equivalent of a Buy rating, compared to eight of 14 for Metro and 10 of 15 for Loblaw.

"Investors view Metro as a place to hide amid volatile market conditions because of strong historical execution, no exposure to Alberta's macro-economic conditions and limited exposure to Rx retailing," Shreedhar noted.

But Metro's run could be nearing an end, say other analysts. BMO Capital Markets analyst Peter Sklar says Metro shares now exceed the high end of their historical valuation and that the re- cent run-up more than accounts for its 2014 acquisition of a majority stake of the Quebec bakery chain Première Moisson.

READ: The towering food waste problem

Sobeys, meanwhile, is another matter. In March, its struggles to integrate the Safeway chain into its operations finally hit the bottom line, with Empire writing down the value of its western business, primarily the Safeway chain, resulting in a loss of $1.36 billion in its last quarter.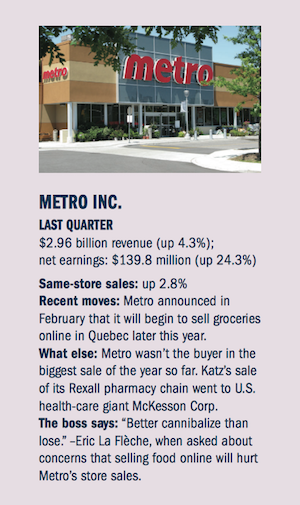 When Sobeys purchased Safeway, in June 2013, the company said the deal would give Sobeys the largest market share of any grocery chain in Alberta. That was back when Alberta had the strongest economy in the country, thanks to sky-high oil prices. Now, oil is down and the situation for shoppers has changed. To lure them back, Sobeys said it would bring down prices on fruit, vegetables and meat after initiating a pricing and promotion campaign in January. Given the sudden price sensitivity of customers on the Prairies, some argue that Sobeys' next move should be to introduce its Ontario discount format, FreshCo, to the West.

Being able to pass along food cost hikes, mostly due to a weak Canadian dollar, will be a key challenge in 2016 for the Big Three. "Obviously, because of their size, Loblaw still has the bargaining power to help drive prices down unlike, say, a Metro, who on a scale of one, two and three, they're third, but they're third by quite a distance," says John Miziolek, co-founder and president of Oakville, Ont.-based consultant Reset Branding.

Miziolek believes Loblaw is doing the best job keeping consumers interested by "investing in the customer experience," as he puts it—and because its private label is "kicking ass."

That's not to say Sobeys and Metro haven't made some nifty branding moves beyond the standard flyer. In Ontario, Metro sponsored Toronto Fashion week. Sobeys, meanwhile, allowed shoppers to exchange stamps they collect on purchases for Jamie Oliver knives. The promotion proved so popular, stores ran out of knives.

Miziolek says Sobeys' connection with Oliver—and his obsession with healthy food—is a de- cent marketing proposition, but that both Sobeys and Metro are vulnerable to Walmart and Costco: the U.S. invaders other international grocery giants may want to emulate should they ever breach these shores again.

This article appeared in the April/May issue of Canadian Grocer