Alkanater-brand Tahina recalled over salmonella concerns
CFIA says the product was sold in Ontario and Quebec and possible other provinces as well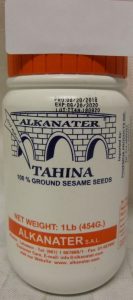 Phoenicia Group is recalling Alkanater-brand Tahina due to possible Salmonella contamination.

The product was sold in Quebec and Ontario, but may have been distributed in other provinces, according to the Canadian Food Inspection Agency (CFIA), which is ensuring the product is pulled from store shelves.

The recall covers 454-gram containers with UPC 6 92551 00002 0 and a best before date of August, 20, 2020.

There have been no reported illnesses associated with the consumption of this product.