03/30/2021
A big year for produce
From sales growth to sustainability, our second annual Produce Operations Survey digs into the challenges and opportunities for today's produce department
The past year has been unusual, to say the least, and this has extended to the produce departments of Canada's grocery stores, where it has not exactly been business as usual. Conducted earlier this year, Canadian Grocer's second annual Produce Operations Survey picked the brains of grocers across the country to find out what's been happening in their produce departments—from sales growth and what's in demand, to operational challenges, labour and supply issues, shrink and waste, sustainability and more.

Produce sales are up
Our survey revealed 75% of respondents found produce department sales had increased in the last six months of 2020, with 63% predicting that same-store sales would also increase for the entire year of 2021. Not surprisingly, the pandemic is being largely credited for the increases. "People are eating three meals a day at home and cooking from scratch more often, which has increased the demand for fresh produce," says Mireille Thibodeau, vice-president of fresh procurement and merchandising at Sobeys. Rob Johnson, produce operations manager at B.C.'s Country Grocer, adds that the large increase in overall fruit and veggie sales are also an indication of "people wanting to eat healthier" during the pandemic.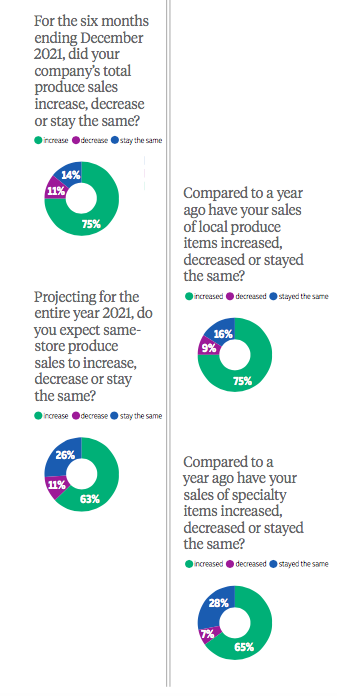 There have also been noticeable changes in what, specifically, people are purchasing in the produce department. "Our vegetable growth is greater than our fruit growth, due to people cooking more," says Mimmo Franzone, director of produce and floral and Longo's. (While our survey didn't show relative growth, respondents estimated about 41% of produce sales are coming from vegetables and 33% are coming from fruit.) Rick Stein, vice-president of fresh foods at the Food Industry Association (FMI) says his organization's research showed something similar: "What we saw was that veg grew stronger than fruits ... Veg is often an ingredient in meals, whether it be tomatoes, asparagus, root vegetables, or onions, potatoes—all of those are ingredients in home cooking," he says. "Also veg has a little bit more pantry life than fruit; fruit ripens kind of quickly," making it perhaps less attractive right now when people are shopping less frequently.

Andrea Vandergrift, general merchandise manager, produce at Costco Wholesale Canada, has noticed some specific shifts in what people have been buying. "We've struggled a lot with our fresh-cut categories, because with people not having gatherings and get-togethers, you don't need a party tray anymore," she says. "The potatoes, onions and carrots have been super strong throughout the entire pandemic. And then the snacking category has been a bit slower, which is things like grapes and clementines—it's still growing, but at a slower rate, and we think that is probably partially due to kids being in and out of school" during the crisis, causing packed lunch and recess snacks to be less in demand.

Specialty & local in higher demand
Vandergrift has also seen a rising interest in specialty produce. "Because people are eating at home more, not going out to restaurants and not travelling, they're willing to spend a bit more on food that tastes good, and they seem to be willing to experiment more. So we've brought in things like the papaya, dragon fruit, mango—things that typically we would have had a harder time selling in the past, but we have had really, really good success with this year," she says. It appears Costco's not unique in noticing this trend; our survey results show 65% of respondents said that compared to a year ago, sales of specialty items had increased (with 28% saying they stayed the same and only 7% saying they had decreased).

Local produce is another area that's seen a major boost in interest. Our survey revealed 75% of respondents said sales of local produce items had increased compared to a year ago, with only 16% saying they stayed the same and 9% saying they decreased. "People are more conscious about what they eat and also where it's coming from, and that's one of the reasons why local produce demand is really growing," explains Sobeys' Thibodeau. "The customer also wants to encourage local businesses and local products, which is another reason why we see the demand in local growing."

FMI's Stein says his organization's research found a shift in the reasons why people want local produce over the past few years. "Back in 2015, consumers wanted local because they thought it was fresher. They thought it was more organic—whether it was or not—and they thought the quality was better," he says. "And over the last five or six years, it's really become a bigger statement about supporting the local economy. It's really about producing jobs and supporting the farms locally." Thibodeau agrees, noting COVID has only magnified this: "I think the pandemic has just raised the awareness among the population of the importance of supporting local growers and communities," she says, "and this is another reason why I don't think this trend will slow down."

Shrink & waste
A perennial issue in the produce department, shrink and waste are not going away any time soon. In our survey, 25% said shrink is greater this year compared to last year; 35% said it was less, and 40% said it was about the same as last year. Interestingly, some of the grocers we spoke with were among those saying shrink has declined, and they believe this is partially because of the pandemic.

"We have seen a decrease in shrink," says Sobeys' Thibodeau. Longo's Franzone concurs: "Overall shrink has been better than years past," he says, tying that to the overall increase in produce sales. "When you sell more, you shrink out less. It's a pretty simple equation. We're also, on our end at Longo's, trying to simplify the guest shop so people can spend less time in the store, so we're rationalizing some SKUs within categories ... and that's helped as well. So that combination of increased sales and then just simplifying our SKU selection has helped."

Ron Lemaire, president of the Canadian Produce Marketing Association (CPMA), notes another way COVID has influenced shrink. "Consumers are getting a little bit better understanding about purchasing and in-store handling [of produce items>—and the funny thing about the pandemic is you aren't getting people going in and overhandling the product on display; they're in and out of the store, which funnily enough, has an influence on how product wears and its shelf life."

But as Country Grocer's Johnson points out, "shrink will always be an issue in produce departments because we are selling a product that will go bad, and we need to make sure that none of the poor-quality produce stays on the sales floor." How does he address it? "We just have to make sure we're on top of what we purchase and make sure we buy the freshest produce that we can buy, and that overcomes a lot of shrink problems. And then obviously we work very, very closely with a lot of the food banks and anything that is still edible but not sellable goes to the food banks, helping out people who really need fresh produce."

Sobeys' Thibodeau says that in addition to redistributing food to local food banks and engaging customers to reduce food waste at home, Sobeys is also using AI to improve its forecasting, and has launched a mobile app in IGA stores in Quebec to alert customers to discounts on items that are near their expiry dates.

Our survey reveals that the top efforts being made to address shrink include "use for ingredients in prepared food" (53%), "use for fresh-cut program" (49%), "donations to food banks" (44%), "ugly produce sales" (44%), and "using technology to better forecast and reduce surplus" (44%).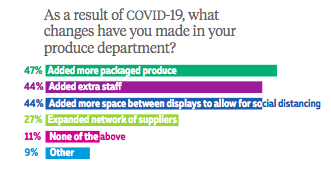 Pandemic changes & challenges
While the pandemic has clearly affected the produce department in countless ways, our survey asked respondents what specific changes they had made in their produce departments as a result of COVID-19— and 47% said they added more packaged produce, 44% said they added extra staff, 44% said they added more space between displays to allow for social distancing, and 27% said they expanded their network of suppliers. About 9% said "other," and wrote that this included "decreased promotions due to availability," "added cleaning procedures put in place," and "adjusted mix of products, delisted some."

With 44% saying they added extra staff, were there greater labour-related challenges than normal this year? While many of the grocers we spoke with said they aren't having major labour challenges, FMI's Stein notes he's heard from grocers who say there have been staffing struggles due to schools being closed and workers who are parents being unable to take on shifts, as well as workers concerned about their safety amid COVID-19. "So we're really pushing hard [the message that> we view them as frontline workers and that we are taking care of them, and that grocery stores are so vitally important," says Stein. Adds Country Grocer's Johnson: "Staff problems have been an issue with some of our employees [being afraid to> come to work, but overall most of our staff are working and doing a great job in looking after our customers and keeping safe."

With regards to labour challenges, Costco's Vandergrift says she's more concerned with labour issues on the supplier side, which can lead to supply chain issues. Even in normal times, she says, "getting enough labour in produce is a challenge, and then with the addition of COVID, you have had the quarantines [for foreign workers> coming into Canada, and then in packing facilities with the social distancing and everything that also slowed down their efficiency—so that's all made it very, very challenging."

Sustainability's still in style
Early on in the pandemic, "people were definitely looking to purchase packaged produce more frequently than usual," says Sobeys' Thibodeau, pointing to concerns about virus transmission as well as a desire to get in and out of the store quickly as reasons why packaged produce was in demand. Longo's Franzone agrees. "In March [last year>, we were knee deep in the middle of our sustainability initiatives ... we were trying to cut plastic where we could, etc., and then March 12 hits and it's like, 'OK, nobody wants to [linger in the produce department> picking out their produce. They want to just grab it in a bag and go,'" he explains. "So the needs of the guests were changing by the hour. We had to pivot and say, 'OK, you know what? This is more important than our sustainability initiative. We need to react.'"

Longo's introduced a system "where we're pre-bagging vegetables like beans, mini potatoes, Brussels sprouts—things where we know it can cause congestion at the display; and there's been zero negative feedback," says Franzone. That said, although things still aren't quite back to how they were pre-pandemic, Longo's is now re-introducing some of its initiatives to reduce plastic in the produce department. "And as things ease up, it'll definitely go back to where it was [before>. As an organization, we continue to have bi-weekly sustainability committee meetings and we're still striving to do the right thing for the environment and for the guests."

Sobeys is seeing a similar shift, and Thibodeau says for items where Sobeys continues to use plastic packaging, "our goal is to ensure that packaging in our stores leaves as little footprint as possible. And we do that by following the model of three, which is to reduce, reuse and recycle the packaging that we are offering." CPMA's Ron Lemaire agrees this is an important strategy, noting the industry is "shifting back to pre-COVID opinion on the need to find environmentally friendly packaged solutions, which the industry is working aggressively on."

In our survey, 47% of respondents said their use of plastic packaging in the produce department has stayed the same compared to last year, while 28% said it's decreased and 25% said it's increased. When asked if they plan to implement any policies to reduce plastic packaging/waste in the produce department in the next 12 months, 54% said yes. And when asked if they offer or sell reusable bags in the produce department, 68% said yes.

FMI's Stein says we are mistaken if we think "sustainability went out the window" early on in the pandemic when grocers re-embraced plastic packaging as they focused on safety. "I would argue, no, it never went out the window," he says. "Packaging is just one aspect of sustainability." Stein says other aspects of sustainability became even more top of mind as the pandemic progressed. With everyone eating at home, for example, consumers saw all the food waste that went into their own trash cans, and "they became very aware of sustainability issues in terms of food waste and things of that nature." And from a retailer perspective, "our retailers never took their eye off the ball with sustainability. They're still working on recyclability, and they're still working hard on supporting vendors that follow sustainable practices."


This article appeared in Canadian Grocer's March/April 2021 issue.