Canadian Grocer's February 2021 issue is here!
Working from home?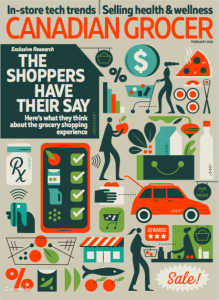 At the time of this writing, Canada just marked a grim milestone; a full year has passed since the first case of COVID-19 was recorded in this country.

A year is a long time. If the prevailing (sometimes disputed) wisdom holds that new habits can be formed in a matter of days (anywhere from 28 to 254 days!) we're certainly well beyond that. Indeed, nearly a year of rolling lockdowns and social distancing has dramatically impacted how we work, socialize, eat and, of course, how we shop for groceries.

For this issue, we wanted to get a better picture of how Canadians, deep into the pandemic, are shopping for groceries and just how they feel about the experience. We worked with the research team at EnsembleIQ (Canadian Grocer's parent) to bring you the 2021 GroceryIQ Study: Taking Stock of Grocery Shopper Attitudes and Behaviours report. One thousand shoppers across the country were surveyed and asked about everything from how they decide where to shop to their biggest pet peeves, what they think about in-store sanitation efforts and how satisfied they really are with the online shopping experience.

Staying on the subject of shoppers, in his column this issue NielsenIQ's Hanif Mohamed, senior vice-president of retail services, explores grocery retail beyond the vaccine. He offers insights on what it will take to keep the post-pandemic shopper spending in your store once things open up and more options become available to them.

And writer Rebecca Harris looks at today's health-focused consumers and what they want from the grocery store. It's not just trendy products they're seeking; these consumers are hungry for the whole health package: information, education and customized solutions for both their physical and mental well-being. In fact, they want grocers to be their ally in health.

Happy reading!