Certain sesame seeds recalled due to salmonella concerns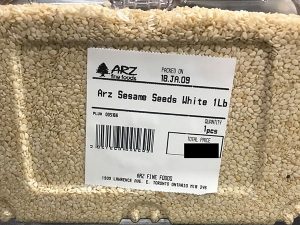 Certain sesame seeds sold in Ontario are being recalled due to possible salmonella contamination.

The impacted products include ARZ Fine Foods brand white sesame seeds with UPC code 2 25166000569 2, and sesame seeds sold in bulk from Bulk Food Stop in Scarborough, up to and including Jan. 23.

The Canadian Food Inspection Agency (CFIA) is conducting a food safety investigation, which may lead to the recall of other products.

There have been no reported illnesses associated with the consumption of these products.

Salmonella can cause fever, headache, vomiting, nausea, abdominal cramps and diarrhea, and the agency says anyone experiencing symptoms should contact their doctor.