CFIA recalls two more butter brands in Quebec
Perron brand and Beurre du Lac brand butter added to the province-wide recall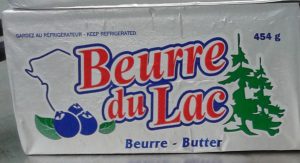 The Canadian Food Inspection Agency (CFIA) is recalling two more brands of butter over possible Listeria monocytogenes contamination.

The federal agency says Perron brand (UPC 7 72622 72454 0) and Beurre du Lac brand (UPC 0 62260 00455 6) butter sold in Quebec should be thrown out or returned to the store where they were purchased.

This is an update to a recall issued last week of  St Laurent butter brand, which was triggered by CFIA test results.

The federal agency says food contaminated with Listeria monocytogenes may not look or smell spoiled but can still make you sick. Symptoms can include vomiting, nausea, persistent fever, muscle aches, severe headache and neck stiffness.

There have been no reported illnesses associated with the consumption of these products.