Check this out: Maple Leaf's guide to eating a hot dog
Food company spells out the do's and don'ts of hot dog eating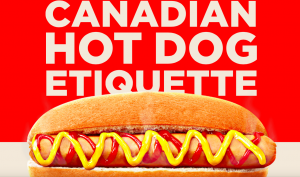 Move over, Emily Post. Maple Leaf Foods has crafted etiquette rules ... for eating hot dogs.

As part of a public relations push in support of its Maple Leaf Natural Top Dog brand, the company has released Canadian Hot Dog Etiquette with simple rules on how to enjoy hot dogs stress free.

For instance, plates, even paper plates, aren't a necessity when eating the "ultimate handheld food." And, gravy and cheese curds are considered acceptable toppings.

"We felt traditional hot dog etiquette needed an overhaul to honour and acknowledge Canadian culture, and we hope our new 'rules' will inspire Canadians everywhere to celebrate with our Natural Top Dogs this July. Or August. Or any day of the year," said Janet Riley, Maple Leaf Foods, vice-president of communications, in a press release.

Canadian Hot Dog Etiquette also includes "fun facts." Citing Nielsen research, the guide says more hot dogs (13,201,401 kilograms) were purchased at retail in Ontario than any other province last year.