Circle K partners with District Ventures to boost Canadian-made products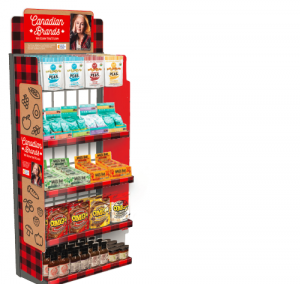 District Ventures, which is led by Canadian entrepreneur Arlene Dickinson of Dragon's Den fame, is partnering with Circle K to ensure Canadian-made food and beverage products are more accessible to consumers.

Through this new venture, entrepreneurs who have received capital and programming from District Ventures will be listed in more than 400 Circle K locations in Ontario starting May 1.

The first brands entering Circle K under the newly formed partnership are Bow Valley BBQ, Little Tucker, Maze Bar and Zak Organics.

"We are constantly seeking ways to push the envelope for Canadian brands in the food, beverage, health and wellness sectors to help them grow and prosper," says Arlene Dickinson, CEO, District Ventures. "With Circle K, we have a great opportunity to assist entrepreneurs by expanding their retail distribution in addition to providing high-quality Canadian products to consumers in the growing convenience store market."

District Ventures helps companies with capital, marketing and programming in the food, beverage, health and wellness consumer space. Twice a year the group invests $150,000 with 10 Canadian food/beverage and health/wellness entrepreneurs in exchange for a minority equity stake of their company.

The entrepreneurs participate in a five-month accelerator program in Calgary that is designed to rapidly increase valuation through sales, distribution, and marketing support. In turn, through mentorship and association with District Ventures, these CPG companies are well positioned in the marketplace. The new partnership with Circle K is one such example.

READ: Sunterra Markets partners with Arlene Dickinson's District Ventures

"The new partnership with District Ventures helps fulfill our mission of making our customers' lives a little easier every day by offering them convenient and healthy food options and by supporting the entrepreneurs in the communities where we work and live," says Steve Pitts, vice president Circle K Ontario.

District Ventures stuck a similar partnership in March with Sunterra Markets. The Calgary-based market and café carries nearly two-dozen products developed out of Dickinson's business accelerator.

This article appeared at CCentral.ca.