Compliments chili powder recalled over salmonella concerns
Canadian Food Inspection Agency says no incidents of illness have been reported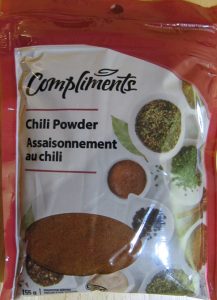 La Cie McCormick Canada is recalling Compliments chili powder because it may be contaminated with salmonella.

The national recall covers 155-gram pouches with UPC 0 55742 35921 3.

This recall was triggered by Canadian Food Inspection Agency (CFIA) test results. The agency continues to investigate and will update the public through food recall warnings as more information becomes available.

CFIA says there have been no reported illnesses associated with the consumption of this product.