Consumer complaint sparks recall of Polish horseradish
Laskol brand Chrzan may contain milk not listed as part of the ingredients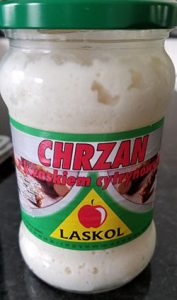 Triggered by a consumer complaint, Polish Trade Centre is recalling Laskol brand Chrzan because it contains milk not declared on the label.

The recall covers 290-gram jars sold in Alberta, Manitoba and Ontario with UPC 5 902556 001126.

The Canadian Food Inspection Agency (CFIA) is conducting a food safety investigation, which may lead to the recall of other products.