03/06/2018
Consumers say in-store displays are boring: Survey
As consumers become more accustomed to digital, in-store displays need to work harder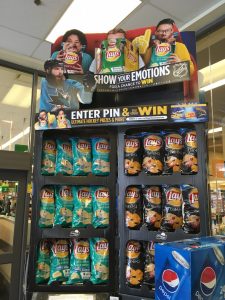 While many consumer packaged goods suppliers may be spending significant chunks of their marketing budgets on in-store promotional displays, a lot of shoppers find the displays, well, boring.

The floorstands, pallets, four-ways and endcaps advertise customer deals, product innovations and special offers to capture shopper attention and, hopefully, share of basket. But, according to a recent study by marketing research firm Field Agent, many of those displays are pretty easy to ignore.

The agency surveyed 250 Canadian shoppers about 15 different displays that were recently in market. Survey respondents were shown pictures of the displays and asked a series of questions. The displays were evaluated in four key categories: stopping power, strength of offer, uniqueness and conversion power. Scores in those categories were used to determine an overall shopper impact score.

The overall average across all 15 displays was just 5.5 out of 10.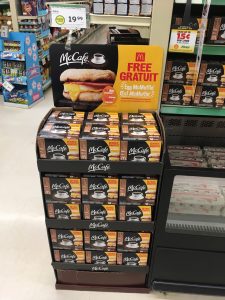 Respondents were also asked for three words to describe the displays. The most commonly used word was "boring," cited 73% of the time.

Jeff Doucette, general manager of Field Agent Canada, said they were surprised by the how low the scores were.

"One of the things we are hypothesizing is that consumers are more and more engaged digitally," he said. People are increasingly accustomed to interactivity and LED screens with sound in retail environments. "And a lot of the displays in grocery stores aren't interactive," he said.

But in the CPG space, where displays are often very short term, digital or technology-based options aren't cost effective. "So it is really about thinking through the elements of how do we make this display stand out using design," he said. Contrasting shapes and colours are effective as is integrating the packaging directly into the display, he said.

Based on the survey, the best performing displays were for Kit Kat Hazelnut Crunch, Lays "Show Your Emotions," both with a score of 6.6, and McCafe "Free Egg McMuffin Offer," which received an overall score of 6.5.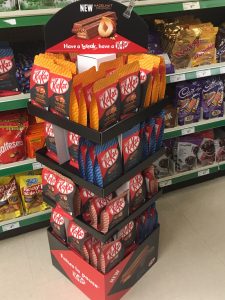 Field Agent said it conducted the research because, unlike with other marketing media (TV, print, digital, etc.), there has been very little done to test new display concepts or measure the effectiveness in market.

"If television creative or print advertising tested with these averages they would never see the light of day," wrote the study authors. "These results show that suppliers can do much better in attracting the attention of shoppers in the store, providing attractive offers and incenting the shopper to purchase."