Dempsters redesigns packaging, takes masterbrand approach
Grupo Bimbo-owned brand emphasizes its Canadian heritage with new logo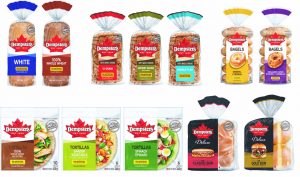 Bimbo Canada is in the midst of a total branding overhaul for its Dempsters breads to emphasize its connection to Canada. A new logo and packaging is rolling out across Canada now.

"Dempsters Made by Canada" is the first time a masterbranding approach has been taken to unite the entire Dempsters portfolio, which goes back more than 100 years.

The new more modern logo includes a maple leaf and replaced the word bakery with "established 1890" to underscore the heritage of the brand.

Work on the new branding actually goes back to late 2017, said Tania Goecke, senior director of marketing at Bimbo Canada.

"We were looking at the brand overall and the ratings, and we saw household penetration sliding almost a point a year for the past five years leading into 2018," she said. "We said we need to make Dempsters grow a bit with our consumers."

Focus groups and research uncovered that the brand was fragmented in the minds of consumers, the communications and marketing for the different products were so different that the Dempsters brand didn't stand for any one thing, she said. "We said lets try to get to more of a masterbrand approach."

The goal was to find something the entire portfolio could stand for. When they tested "Made by Canada"—which stood for a product that was made for Canadians by Canadians—it scored the highest among consumers.

"And so we knew we had a winner."

In 2018 they started to roll it out in advertising and through a sponsorship in The Amazing Race. "There was a nice tie in there because they talked about Canadian heroes," said Goecke. The latest stage of the master-rebranding is introducing new packaging with the new logo.

They kept the Dempsters font for the name, but introduced the Maple "established in 1890" messaging.

The move is really to showcase our heritage, that we're Canadian born and bred. We're a Canadian brand and really aligned with the new positioning 'Made by Canada.'"

New packaging is rolling out segment by segment: grains and tortillas launched in July; white and wheat sliced breads will switch over in the next weeks for back to school. Along with that, there is back-to-school POS and a TV ad focused on tortillas that will include the new look.