Food recall update: Maple Leaf Foods wiener brand
Recall has been updated to include additional best-before dates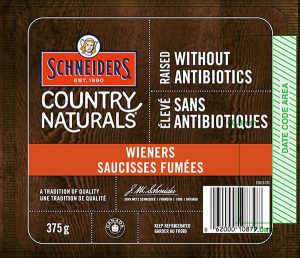 The Canadian Food Inspection Agency (CFIA) has updated a national recall on Schneiders brand Country Naturals Wieners to include additional product information identified during a food safety investigation.

The initial recall issued Oct. 17 over concerns the product contained milk not listed on the label, has been extended to include 375-gram packs with UPC 0 62000 10879 7 and a best before date of Oct. 22 and Jan. 2, 2019.

CFIA is working to ensure the products are removed from the marketplace.