Grocers should look at 'fresh' opportunities in 2013: Nielsen
As purchase behaviours shift with evolving technologies and the burgeoning condo market, Nielsen last week offered some insights on where retailers can find opportunities this year.

The webinar, entitled "What's in store 2013: Think small for big results," was presented by Carman Allison, Nielsen's director of consumer insights for Canada. He pointed to the growth potential in servicing the needs of smaller households and condo dwellers.

With less need to pantry load, Allison said condo dwellers are looking for smaller product sizes. He also pointed to online shopping and local stores gaining traction as condo dwellers tend not to own cars.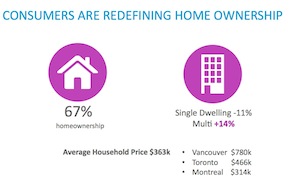 The condo population is a growing opportunity for grocers

Just over 60 per cent of this country's families are made up of 1-2 member households. According to Allison, that means there's a growing need for single-serve portions and prepared meal offers. He said some grocers have responded to this trend with the addition of more express lanes as smaller households tend to shop more frequently and have smaller baskets.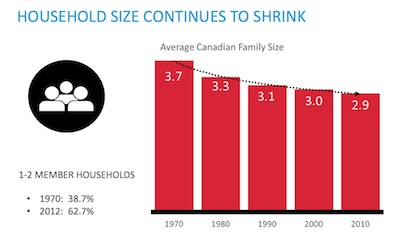 Canadian household sizes are shrinking

In addition, an increase in competition for consumer dollars means it's more important than ever for retailers to differentiate themselves, especially with the decline in the average number of shopper trips annually (from in 200 in 2006 to 179 in 2012).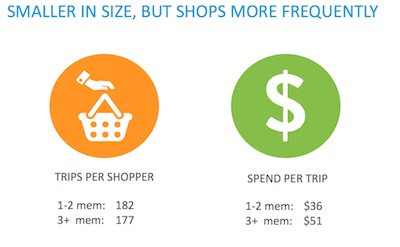 Smaller households tend to shop more frequently

And one way to do that is through their fresh offer, said Allison. Nielsen said 53 per cent of those surveyed said they look for quality fresh when deciding where to shop. As fresh represents 33 per cent of grocery store sales, "It's about getting beyond price," said Allison. Interestingly, basket sizes were found to be 1.5 to 2 times larger with fresh.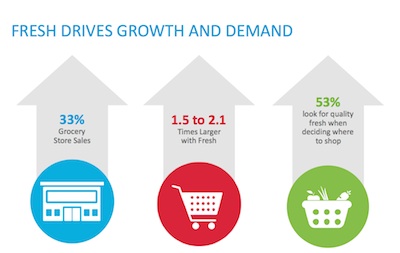 Fresh is fuelling growth in grocery

Consumers are being conservative with spending on consumer packaged goods, added Allison.