Gusto and Olli brand meats recalled
Products may have been sold national and could contain Listeria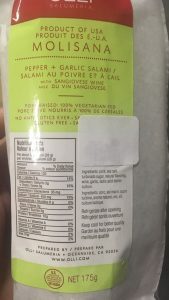 The Canadian Food Inspection Agency is recalling certain Gusto brand and Olli brand ready-to-eat meat products because they may contain Listeria monocytogenes.

The following products may have been sold nationally and should not be consumed:



Gusto brand Napoli Applewood-Smoked Salame. UPC: 1000012821


Gusto brand Chorizo Smoked Paprika. UPC: 1000012812


Gusto brand Sopressata Black Peppercorn Salame. UPC: 1000012811


Gusto brand Toscano Fennel Pollen Salame. UPC: 1000012805


Gusto brand Pepperoni Classically American. UPC: 1000012804


Olli brand Molisana Pepper + Garlic Salami. UPC: 1000012808


Olli brand Napoli Applewood-Smoked Salami. UPC: 1000012810


Olli brand Calabrese Spicy Salami. UPC: 1000012807



This recall was triggered by a recall in another country.  The CFIA is conducting a food safety investigation

There have been no reported illnesses associated with the consumption of this product.