Italians are exceedingly proud of their cuisine and infinite contributions to the culinary world. This was very apparent at the "How Italy Does Italian" food and wine delegation tour hosted by the Italian Trade Commission earlier this month.

Seventy Italian producers showcased their very best traditional products on a three-day trade mission to Montreal, Toronto and Vancouver.

Although many foods originating in Italy are now produced in Canada, it's a challenge to match the taste of authentic Italian products. Even when using traditional recipes, differences such as climate, water, plant varieties, animal breeds and manufacturing processes can affect the end product.

Sampling the traditional cured meats, cheese, condiments, pasta, olive oil, baked goods and wine was an awakening of the senses, like a culinary adventure through Italy. Here are some of my discoveries:

Chestnuts for dessert: Italians turned chestnuts into a rich, indulgent confection; Raffael makes Marrons Glacés (candied chestnuts).

Salami in a jar: 'Nduja di Spilinga is a spicy spreadable salami from Calabria, made with the addition of fat and roasted hot peppers to achieve a paste-like consistency. It's delicious spread on Italian bread or added to pasta sauce.

Salami wrapped in cheese: Caciosoppressata Piccante is a spicy salami enrobed in caciocavallo cheese. It originated, I was told, when Italians were not permitted to transport salami and concealed it in cheese.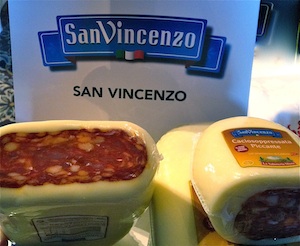 Roman style long stem artichokes: Carciofi alla Romana are artichokes unlike any I have ever tasted. Montalbanofood.com/it/

Bruschetta reinvented: Crema di Radicchio spread from Sapori d'Italia is a versatile Venetian specialty, used as a bruschetta topping, condiment or added to pasta, risotto and soups. Simensalimentare.it

Smoking Ricotta: Canadian artisan cheese makers are smoking cheddar, while Italian brand San Vincenzo produces Crotonese smoked ricotta from Calabria.



Nothing of the pig goes to waste: Ciccioli Montanari, a Northern Italian specialty from Gigi Il Salumificio, is pork belly and throat cooked, seasoned and pressed. It's unique taste and firm texture adds variety to antipasto platters and sandwiches.

Vodka from Italy?: Oh, sì! Vodka ZZERO Caramello (caramel) is so smooth and easy drinking it can sneak up on you.

And so ends my satiating journey to Italy. Expect some of these authentic Italian delicacies to land on Canadian retail shelves. Buon appetito!

As a packaged foods consultant specializing in strategy, brand and packaging development, Birgit Blain makes brands more saleable. Her experience includes 17 years with Loblaw Brands and President's Choice. Learn more at www.BBandAssoc.com