Loblaw cracks its way into Guinness World Records
Reclaims world record from Whole Foods for the most Parmigiano Reggiano cheese wheels cracked simlutaneously
Loblaw Companies has reclaimed the world record for the most Parmigiano Reggiano cheese wheels cracked simultaneously.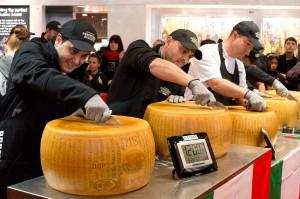 On March 24, 360 Loblaw banner stores across Canada cracked 1,008 wheels of Parmigiano Reggiano at the same time.

The Brampton, Ont.-based retailer achieved the Guinness World Records title in 2012, when 378 cheese wheels were cracked. Then Whole Foods broke the record last year. "We knew we had to do it in a way that would be very difficult to repeat," saidMetzi Liau, senior category director at Loblaw Companies.

"The reason we wanted to do this was our strategy has always been focused on sourcing the highest-quality, best-tasting food and becoming a destination for great food," said Liau. "We have such great assets in our stores, especially our colleagues who are motivated to provide an amazing in-store experience. And we thought, 'What better way to than this parm-cracking event and we can break a world record while doing it?'"

Parmigiano Reggiano is a hard Italian cheese produced in Parma, Reggio Emilia, Modena or Bologna, and has used the same recipe for almost 1,000 years. It takes 11 steps to crack a 34-kilogram cheese wheel in the traditional style and requires special cheese-cracking knives and training.

Loblaw partnered with supplier Mulino Alimentare on the event. Aside from training staff on the proper cheese-cutting technique, Loblaw also had to ensure the strict rules of the Guinness World Records were followed. It used one of the submission requirements as an opportunity to engage staff: each store had to secure at least two witness statements, and Loblaw invited people from local communities to take part. "We had an overwhelming interest from people who wanted to be witnesses," said Liau. "There is a lot of documentation, but that was their way of saying, 'We're going to be part of history, so why not?'"

At the flagship Maple Leaf Gardens location in Toronto, a member of the Parmigiano Reggiano Cheese Consortium and a Guinness World Records adjudicator were present. The consortium aims to preserve the integrity and quality of each wheel of Parmigiano Reggiano created.

Leading up to the big day, Loblaw promoted the event through in-store signage and flyer advertising. And when all the wheels were cracked, the Parmiagiano Reggiano was promoted at half price. "Because of the relationship we have with our direct vendor from Italy, we were able to negotiate a reasonable cost that allowed us to pass on those savings to our customers, and that in turn drove amazing interest and sales," said Liau.

This article first appeared in Marketing Magazine.