Loblaw recalls chicken nuggets over salmonella concern
Affected products sold nationally at affiliated outlets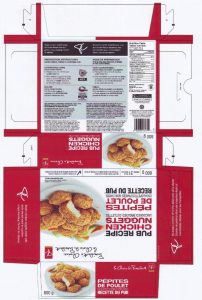 Loblaw Companies Limited says it is recalling select packages of chicken nuggets out of what "an abundance of caution."

The grocery chain says some packages of President's Choice pub recipe chicken nuggets may expose consumers to salmonella if the nuggets are improperly handled.

Loblaw says the recalled nuggets bear a best-before code of "2018 MR 15" and were sold prior to Wednesday in most of the country at Loblaw stores and at affiliated outlets such as No Frills, Real Canadian Superstore, Dominion, Provigo and others.

According to Health Canada guidelines, salmonella can be avoided if consumers properly follow cooking instructions and cook frozen raw, breaded chicken products to an internal temperature of at least 74 degrees Celsius (165 degrees Fahrenheit).

Loblaw says all affected products have been removed from store shelves.

Customers can return the product to any store where President's Choice products are sold for a full refund, with or without a receipt.