04/17/2019
Nature's Emporium is rolling out compostable bags
Health food retailer is charging 20 cents per bag and donating a portion of the proceeds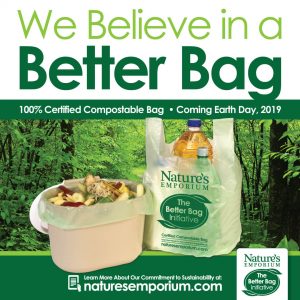 Nature's Emporium is introducing the "Better Bag" option--a 100% certified compostable bag--at all four of its Ontario locations.

In a press release, the health food retailer says it is the first in the province to offer a certified compostable bag at checkout. The initiative, it said, could help prevent "as many as 1,000,000 plastic from bags entering landfills every year."

"Our new bag is about providing our customers with a sustainable option that reduces the amount of plastic destined for landfills, while encouraging the capture of an important resource--food waste--which can significantly reduce greenhouse gas emissions" said Mary D'Addario, the grocer's director of philanthropy & community partnerships.

Nature's Emporium is charging 20 cents per bag, with a portion of the proceeds benefitting local conservation partners.