07/07/2017
Nature's Way now includes mass-market channels
Supplement company moving beyond health food stores in an effort to grow sales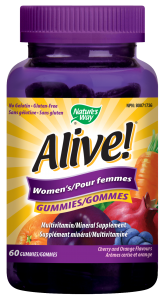 A longtime fixture in health food stores like Noah's and Healthy Planet, Nature's Way Canada is pushing into traditional grocery channels, where it is hoping to replicate the success of its U.S. counterpart.

While the vitamin and supplement company has traditionally had a presence in grocery chains like Loblaws, Bulk Barn and Shoppers Drug Mart, its products have been largely confined to their health food sections, says vice-president of marketing Gillian Aiken.

The company is now moving into the food/drug/mass (FDM) channel, including securing a listing with retail giant Walmart. Other chains including Sobeys, Bulk Barn, Costco and Rexall also carry Nature's Way products.

Aitken says only about 11% of Canadian consumers shop at health food stores. "By only being in that channel, we're not reaching 89% of the people who shop in the food, drug and mass channels," says Aiken. "We're missing an opportunity to reach lots of consumers."

Nature's Way first began pushing into the FDM channel in the U.S. about five years ago, says Aiken. Today, as much as one-third of its sales are derived from that channel, contributing to year-over-year sales growth in the high double digits.

Aiken says traditional grocers are keen to expand their natural product selection to meet growing consumer demand. "They're seeing a trend towards consumers taking a more proactive role towards managing their health," she says.

Canadians are among the world's biggest users of vitamins and dietary supplements, according to a September report from Euromonitor International, citing CBC news reports indicating three-quarters of Canadians use vitamins or supplements.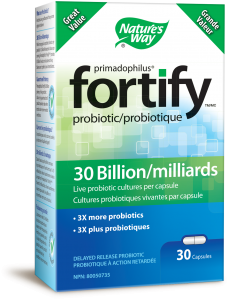 However, the report predicts the market will contract 1% over the next five years, reaching a value of $1.5 billion by 2021.

Nature's Way operates approximately 270 SKUs in Canada, though it has eliminated 50-70 under-performing products from its portfolio over the past two years.

The company recently reformulated its Alive multivitamin brand to make it more suitable for mass-market consumers, while introducing a new high-potency probiotic brand called Fortify and a liquid fish oil brand, OmegaSea. Aiken describes the latter as a "value-conscious" variant of its premium-priced NutraSea brand aimed at mass-market consumers.

Nature's Way also launched a new consumer marketing campaign for Alive that includes its first-ever Canadian TV advertising, complemented by digital and print advertising.

The advertising positions Alive as upbeat, energetic and friendly, distinguishing it from its competitors in the multi-vitamin segment, which tend to favour what Aitken describes as a "clinical and scientific" approach. She says the goal is to make Alive the largest brand in the Nature's Way portfolio, a title currently held by NutraSea.