Norfolk Bison products recalled over E. coli concerns
Canadian recall sparked by illnesses linked to these products in the U.S.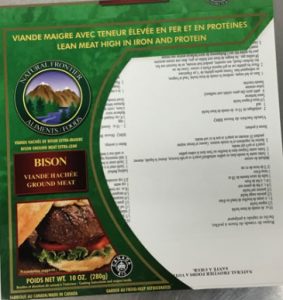 Northfork Bison Distributions has voluntarily recalled several ground bison products due to possible E. coli contamination.

The national recall covers a range of products and under varying brand names:



Natural Frontier Foods bison--ground meat (UPC 6 76842 00147 7)


Sensations extra lean ground bison (UPC 6 23682 11159 0)


La Terre des Bisons--bison ground lean (UPC 96768420002598)


Northfork Canadian Bison Ranch bison ground regular (UPC 86768420002577, UPC 96768420111061 and UPC 96768420111054)


Northfork Canadian Bison Ranch bison burgers (UPC 96768420111092 and UPC 96768420111184)



There have been no reported illnesses associated with the consumption of these products in Canada. However, there have been reported illnesses in the United States linked to these products.

The Canadian Food Inspection Agency is conducting a food safety investigation, which may lead to the recall of other products.